This year has so many obstacles that everyone expects to take a break during holidays at the end of the year, purchasing Christmas gifts, writing Christmas cards, giving Christmas wishes…among them, there is an interesting phenomenon that many people have never thought about – why for other festivals we wish others "happy birthday", "happy new year", etc., but we only use or often use "merry" for Christmas? If using "happy Christmas" is absolutely correct from grammatical rules and usage habits, so what makes Christmas such different that saying another word?
The choice of the word can depend on the country, in the UK, "Happy Christmas" is a major choice, even the Queen says it every year. However, in the US, 67% of Americans tend to use "Merry Christmas" and 25% of Americans choose to say "Happy Christmas", according to a survey by CBS News in a few years ago.
The expression "Merry Christmas" can be precisely traced back to 1534 when John Fisher, an English Catholic Bishop, wrote in a Christmas letter to Thomas Cromwell, an English chief minister to King Henry VIII: "…and this our Lord God send you a merry Christmas, and a comfortable, to your heart's desire." Around the same time, there was another carol "God Rest You Merry, Gentlemen", which was first published in the form in 1760. At that time, the sentence "Rest You Merry" didn't simply indicate happiness, more referred to maintain the pleasant, bountiful and prosperous emotions, but "Merry Christmas" didn't get so popular until the end of 1843.
In December 1843, Charles Dickens initially published A Christmas Carol, in which an extreme penny-pinching miser and also a cold blood person, Ebenezer Scrooge, who particularly detests Christmas as it's "a time for finding yourself a year older, and not an hour richer", is visited by his former partner who died in a Christmas Eves to understand the consequences of being selfish, cold-blood, and greedy. Through the hunting of past, present, and future Christmas ghosts, Scrooge changes himself into a gentle, warm, and nice person. The story is very short mixing many beautiful illustrations, and in less than 145-page, "Merry Christmas" appears over 14 times.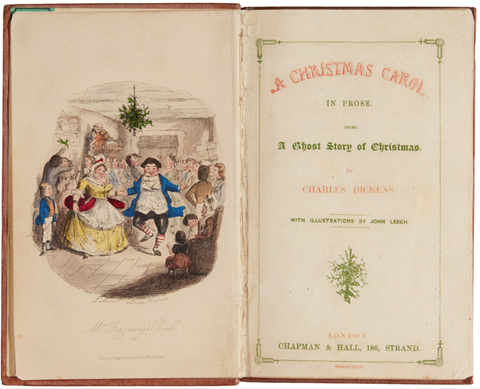 The book was priced extremely low, resulting in crazily high sales with individually low profits. In the first few days of the release of the book, it was sold over six thousand copies and the record continued to grow. Along with the huge success of A Christmas Carol, an English businessman, Henry Cole, firstly started to sell a Christmas card written with "Merry Christmas" during the same period, and all his cards were sold out.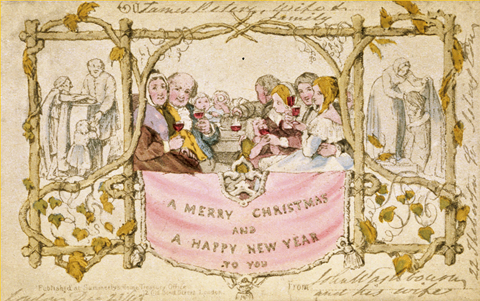 Now the book is considered as one of Dickens' representatives due to its popularity in society, generating many other works related to the story. And sending a Christmas card printed "Merry Christmas" is usual. But there are more charms behind this history.
In fact, Dickens only spent less than six weeks to write it. Publishing it before Christmas was specially designed – he figured a successful Christmas book could net him around £1,000, so he could earn enough money to afford the basic expenses of his family. At that time his career was going bad, he didn't have other solutions. Money was an important motivation; another motivation was to present the social problems in Victorian society to the public: selfish upper classes, like Scrooge, versus desperate ordinaries, to which Dickens belonged.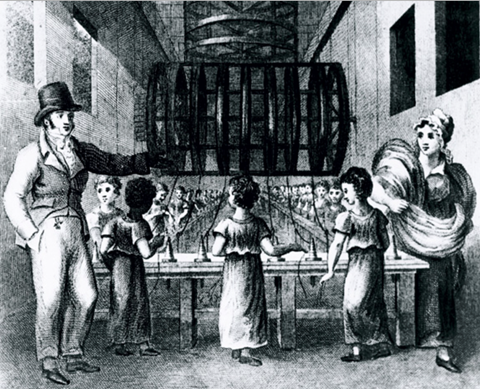 Born in a poor family, Dickens had worked in a factory with very bad work conditions and a pathetic salary. Survival rather than development was the core fate of people like him, and the unbalanced social structure strengthened the difficulty to reverse one's social status. In early 1843, he read a parliamentary report about children labors with unfair treatment under dangerous working conditions, after he visited schools for the poor but discovered that they learned as thieves and prostitutes. In October in Manchester, he gave a speech to highlight the importance of education for every class. His own life path and the repeating social evolution inspired him to write A Christmas Carol.
The story resonated powerfully with the public, and the expression of "Merry Christmas" has strong implications for social classes. For some British, they prefer "Happy" instead of "Merry" because of their deep meanings. "Happy" as an adjective means lucky of a condition or situation, and suitable of word or behavior. It is used as a polite way to express or greet one's willingness, pleasures, satisfaction, or wishes. Meanwhile, "Merry" as an adjective has similar definitions than "Happy", but with an implication of over-drink, which gives a negative impression of personal life, therefore, for the common people, "Merry" is closer to their realities, very joyful – too obvious emotional changes and little drunk – unsuitable behavior. But to probably and elegantly give wishes, "Happy" is better than "Merry", especially for the traditional and the upper class, the Queen always says "Happy Christmas" to the public.
Christmas originates from religion, and then carries social reviews, now people more cares about its entertaining functions, no matter how this festival connects people all over the world, its developing path follows human society's changes.
(Source: Charles Dickens Page, Oxford Dictionary)