How much profit margin can a company increase if it imports a batch of raw ham from Spain and processes it in Hainan and then sells it to the Chinese mainland market?
"About 10%." Xu Dongyong, chairman of Shangdao (Hainan) Supply Chain Management, said that the profit increase benefits from the Hainan Free Trade Port's processing value-added over 30% tariff-free policy. "We put the Spanish characteristic cold chain intensive processing project in Hainan, which can exempt the 25% import tariff, and there is still considerable profit margin after including other costs."
Investing in Hainan Free Trade Port can bring attractive dividends. This is the common feeling of many enterprises since the third anniversary of the announcement of the Overall Plan for the Construction of Hainan Free Trade Port. Judging from the indicator of attracting foreign capital, Hainan's actual use of foreign capital last year exceeded 4 billion dollars, achieving high growth for many years in a row. According to the Hainan Provincial Department of Commerce, in the first five months of this year, the actual use of foreign capital in Hainan was 1.72 billion dollars, a year-on-year increase of 35.4%, and 562 foreign-invested enterprises were newly established.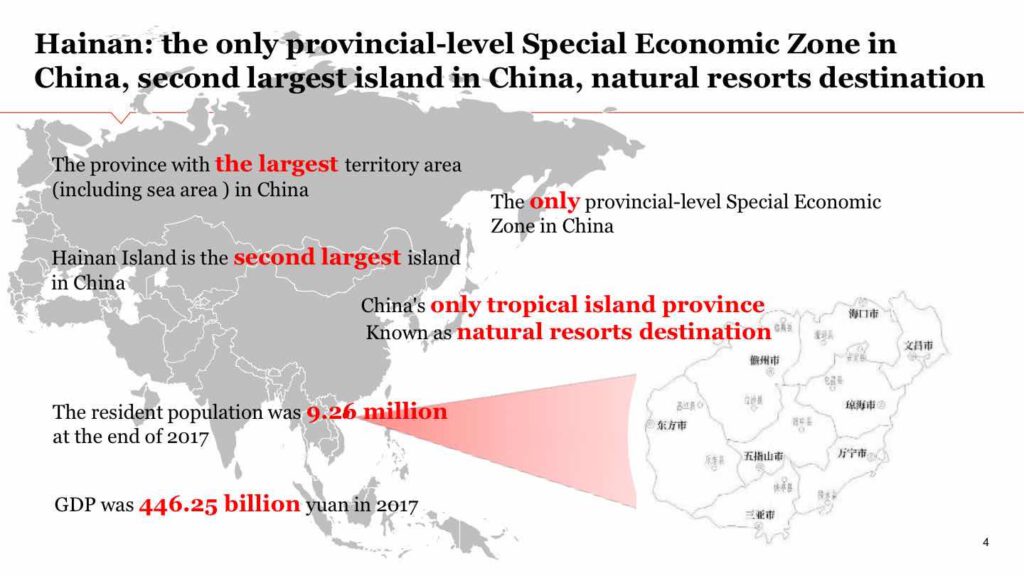 The free trade port is the highest level of openness in the world today. In the past three years since the Overall Plan was released, more than 180 free trade port policy documents have been implemented. The free trade port policy system with the main features of "zero tariffs, low tax rates, simplified tax system" and "free and safe flow" has been gradually established, and the policy dividends have been released at an accelerated pace, with preliminary results showing.
Among them, in response to the implementation of three zero-tariff lists of raw and auxiliary materials, vehicles and yachts, and self-use production equipment in the Hainan Free Trade Port, as of the end of April 2023, Haikou Customs has cumulatively supervised zero-tariff imports worth about 2.26 billion dollars. Imported preferential products have covered key industries such as infrastructure construction, processing, manufacturing, R&D, and design, and have played a positive role in promoting industrial agglomeration and stabilizing the economic market.
Not only that, more tax policy dividends are being released in Hainan Free Trade Port. The benefits of the 15% income tax policy continue to expand. The catalog of encouraged industries in the Hainan Free Trade Port has added 143 items to the catalog of encouraged industries based on the national version. In 2020, the tax-free shopping quota for tourists from outlying islands was increased to 13,814.06 dollars per person per year, and the number of duty-free products was increased to 45 categories, covering all tourists who leave the islands. In 2022, the applicable cases of 15% income tax of Hainan Free Trade Port increased by 122.7% and 35.7% respectively for individuals and enterprises.

Preferential tax policies, free and convenient investment, an increasingly improving business environment, and a vibrant tourism consumption market are all factors that attract foreign investment.
To open up to a higher level, Hainan has benchmarked international high-standard economic and trade rules and introduced 20 measures to seize new opportunities for the implementation of the Regional Comprehensive Economic Partnership (RCEP) and to align with the Comprehensive and Progressive Agreement for Trans-Pacific Partnership ( CPTPP), piloting relaxation of some import and export goods management measures.
Since the implementation of China's Special Management Measures for Cross-border Service Trade at Hainan Free Trade Port (Negative List) in Hainan, as of March 2023, 22 opening-up measures have been promoted, and the negative list for foreign investment access has been reduced to the shortest in the country.
Thanks to the effective implementation of special measures to relax market access, in the first quarter of this year, more than 200,000 new business entities were added in the province, and the growth rate remained the first in the country for 37 consecutive months, steadily promoting the liberalization and facilitation of free trade port cross-border trade and investment.
In 2022, the province's new offshore international trade foreign-related revenue and expenditure reached 18.45 billion dollars, and the foreign-related revenue and expenditure of trade in goods was 40.91 billion dollars, which are 3.5 times and 3.6 times that of 2018, respectively.

Plus, Hainan has established a shipping policy framework system centered on the China Yangpu Port ship registry system, combined with supporting measures such as ship export tax rebates and import shipping ship duty-free, to promote the continuous concentration of shipping elements and the rapid development of the shipping industry.
Furthermore, to attract domestic and foreign talents to come to Hainan for innovation and entrepreneurship, Hainan has implemented a one-way recognition list system for overseas professional qualifications and a more open talent introduction and residence policy for high-end industrial talents, and set up a special reception for talent services.
While Hainan is stepping up its efforts to bring opportunities in, Hainan enterprises are also actively going out. After settling in Hainan, many domestic enterprises have carried out foreign investments relying on the free trade port policy. The export-oriented economy of Hainan Province has gradually become an important support for the economic development of the Free Trade Port.
It should also be noted that international economic development is facing severe challenges such as deglobalization, and various uncertainties are increasing. In the face of risks, challenges, and strategic opportunities, Hainan focuses on solving the problems existing in the development of an export-oriented economy, fully exploits its location advantages and policy advantages, accelerates the exploration of new models and new paths for an export-oriented economy, and promotes the construction of a free trade port with high standards and quality development.
(Source: gov cn, hainan gov, KPMG, tropical hainan)