China on 14th October held a grand gathering to celebrate the 40th anniversary of the establishment of the Shenzhen Special Economic Zone (SEZ). On 26th August 1980, the Chinese top legislature approved to establish 4 special economic zones in Shenzhen, Zhuhai, and Shantou in Guangdong Province and Xiamen in Fujian Province. Among all of them, Shenzhen has achieved the most successful development over the past 40 years, between 1979 and 2019 Shenzhen's gross domestic output grew tp 2.69 trillion yuan, or roughly $390 billion, such an annual growth rate of 21.6% proved again that Shenzhen creates a miracle in the global development history.
Modern Shenzhen changed its shape within a generation, no one could imagine that a historic decision can transform a poorly local fishing village into an advanced modern city worldwide. Since 2000, Shenzhen started to transform from a tax-free manufacturing hub to a modern metropolis. Three pillar industries began to develop here – high-tech, logistics, and financial services, contributing significantly to the Chinese technological innovation, attracting numerous talents from across the mainland which continuously pushes up its population. The city now is often referred to as China's Silicon Valley as many renowned Chinese technology companies are located here, including Huawei, Xiaomi, Tencent, etc.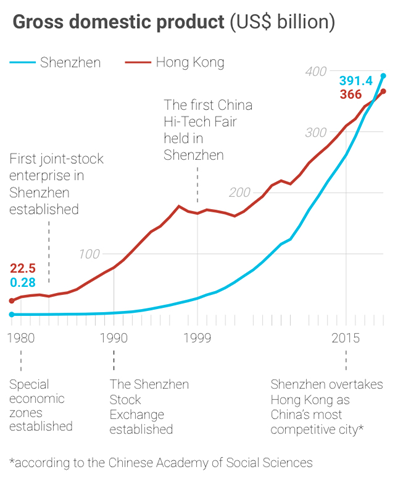 Credit to its economic model, in 2018, Shenzhen's economy surpassed Hong Kong's for the first time. "Hong Kong is heavily reliant on traditional industries such as financial and real estate, which covers about 70% of the economy. Shenzhen's economy is mainly supported by manufacturing and technology, which contributes about 70%," said Hong Hao, the director and head of research at Bocom International. If the different economic structures of the two cities maintain so, Shenzhen's economy will remain ahead of Hong Kong's in the coming year, if including political factors, the stable and open environment of Shenzhen is surely more attractive to the foreign investors.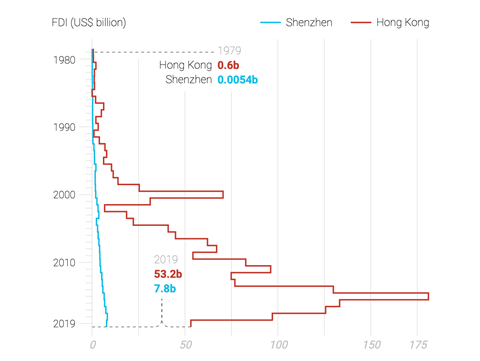 Shenzhen has built a deeply interactive economy model among technology, finance, and logistics. One of the places to give an insight into this new world is Huaqiangbei electronic markets, the world's largest electronic market, virtually nothing coming under the electronics products that cannot be found here. These markets in the Huaqiangbei area supply millions of electronics products across the world. Each year, hundreds of thousands of businessmen and resellers visit these markets, and they may place, send, and track orders via Wechat or Alipay. Not everyone has been to Shenzhen, but everyone definitely has used things produced or shipped from Shenzhen. Many times you may need to wait longer when you buy some local things online than buy similar items from China. The economic influence of Shenzhen applies wider and deeper ranges than we can imagine.
"特 (Special)", Shenzhen couldn't have made such achievements without being a Special Economic Zone. The special position provides Shenzhen uncountable advantages in policies.
"改 (Change)", Shenzhen is a trail of changing the way to develop Chinese economy and society, and it proves as long as a country always follows the right trend, and make good changes, it will get better.
"勇 (Brave)", 40 years before no one knew how to transform a poor village into the current modern city, the earlier just pictured a blueprint and went ahead without stepping back, this braveness has encouraged people till now.
"智 (Wisdom)", three generations deepen their thoughts here, and in the future, more younger generations will join, their efforts and achievements are the best proofs of their wisdom.
"先 (Advance)", Shenzhen is always the first city to apply every new policy or to experiment with new things, which brings it more risks but also more advancements.
"搏 (Effort)", from extremely poor to relevant wealthy, people overcame too many obstacles by holding a belief that a better life needs efforts.
"快 (Speed)", "time is money, efficiency is life", this phrase is widely spread and deeply remarked in Shenzhen's people. They try to grasp every chance and gaze every moment to make some difference.
"创 (Innovative)", by insisting on an innovative economy model, Shenzhen becomes the best place for startups and young people, their innovations are pushing the city and even the country more and more forward.
"新 (New)", Shenzhen continuously makes new targets and new plans for a better future. But which direction Shenzhen is exactly heading to?
Last August, China's State Council and the Central Committee issued a new guideline outlining an ambitious plan for the future of Shenzhen. The plan wishes to transform Shenzhen into a leading city globally in terms of economic might and development quality, specifically focusing on academic research, industrial innovation, public services, and ecological environment.
(Source: XINHUANET / CGTN / South China Morning Post / China News)