After encountering multiple rounds of sanctions by the United States, the Huawei P50, which was supposed to be released this spring, was finally officially released on 29 July 2021.
P50 has achieved the latest breakthrough in imaging by introducing XD Optics, the first mobile photography technology in the industry. On traditional mobile phones, the captured image will lose 50% of the information before processing. Huawei improves the ISP image technology, adds the Lens module technology, allowing the algorithm to automatically correct and restore the original image, and the XD Fusion Pro image processing engine can finally retain up to 81% of the image information with a 103% increase in the amount of light, and a 10% increase in the details. In low light conditions, the normal mode can be clearer than the opponent's night scene mode.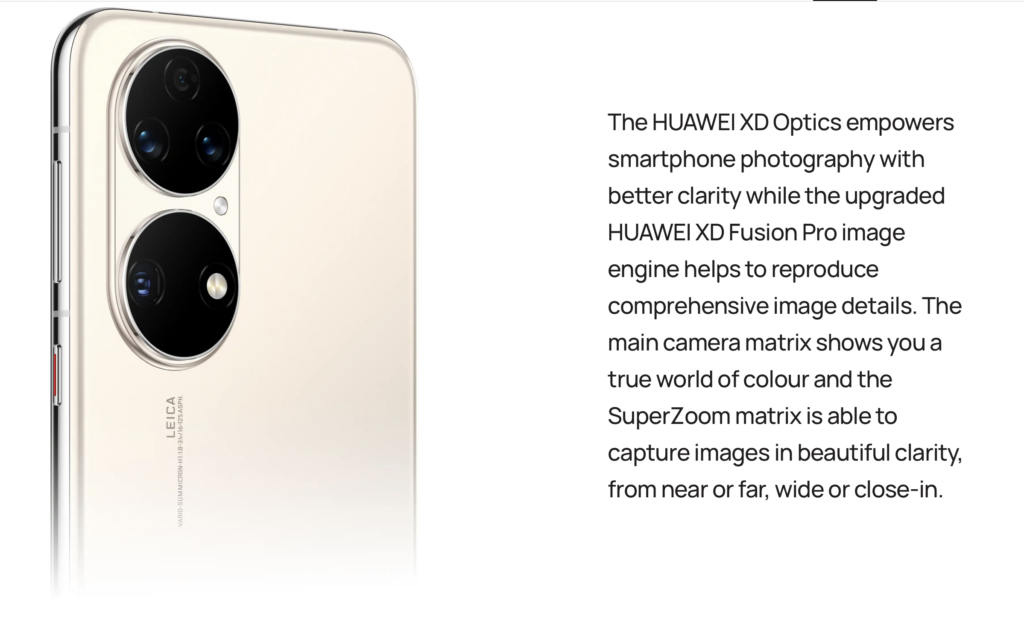 The engine also introduces a super filter system, primary color engine, and super dynamic range, from which the new generation of environmental spectrum information acquisition system uses a 10-channel multi-spectral color temperature sensor, with P3 color gamut 2000 + color adjustments, to achieve a 50% increase in environmental spectral resolution and a 20% increase in average hue accuracy.
At the same time, the P50 series of mobile phones are also directly pre-installed with HarmonyOS 2.0, becoming the smartphone with the highest degree of domestic substitution. Huawei has also become the first Chinese mobile phone manufacturer with software and hardware purely self-developed. Since Harmony OS was officially launched on June 2, more than 40 million users have upgraded it. Huawei said that from next year, the Mate9 and P10 series will also receive Harmony OS upgrades, and many old models can also upgrade their memory configuration in Huawei's stores.
But what the world is most concerned about is how long can Huawei's stock of chips support Huawei mobile phones?
Last 15 September is an important moment in the history of Chinese chips and semiconductors. After the 120-day buffer period, the US ban on Huawei and its subsidiaries officially took effect, and TSMC and other companies formally stopped supplying Huawei.
At that time, it was reported that Huawei's Kirin 9000 chips had about 8.8 million units, which could support about half a year. Huawei's previous control of the supply of Mate 40 and P40 series undoubtedly exposed the shortage of Huawei's chip inventory, and subject to the ban, the configuration of Huawei's new cellphone is also affected. Huawei's P50 series of mobile phones will adopt 4G chips in the entire series, of which all P50s will use Qualcomm Snapdragon 888 4G chips, and P50 Pro will use Kirin 9000 4G chips.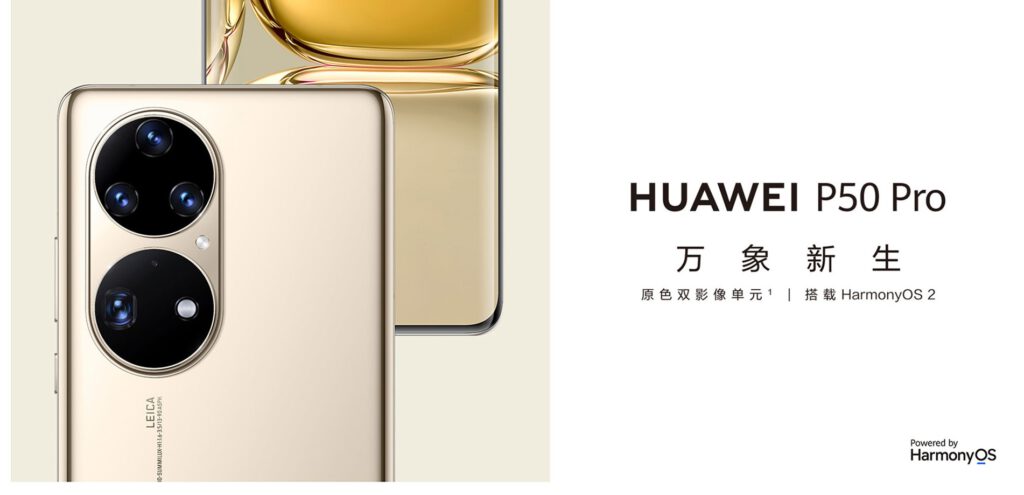 Though P50 series don't use 5G chips, Huawei tries the best to maintain a high-level network quality by its AI heterogeneous communication technology which is implemented through four-network coordination, dual-network concurrency, and AI scheduling. Since Huawei has always had advantages in synergy between antennas and base stations, the P50 experience can still do well under weak signal and high-speed driving conditions.
An unchangeable reality is that the P50 series will not be able to change the decline of Huawei's mobile phones, and it is hopeless to regain its former position as the world's second-largest and domestic first.
In 2020, Huawei's mobile phone shipments totaled 189 million units, a year-on-year decrease of 21.5%, with a market share of 14.6%. The vacancy left by Huawei has given other Chinese mobile phone manufacturers an opportunity to vigorously promote their high-end strategies, including Xiaomi, OPPO, Vivo, etc. They all announced to go to the high-end, and launched a frenzied competition for the vacant market. For instance, this spring, Xiaomi released 11 Pro and 11 Ultra, which are praised as "King of Android Phone" and "Light of Android."
According to Canalys's report on the global smartphone market share in the second quarter, Xiaomi's market share was 17%, and smartphone sales surpassed Apple, making it the world's second place for the first time. Honor shipped 6.9 million units of mobile phones, rushing into the top five with a strong chain growth rate of 40%. Huawei fell out of the top five in the Chinese market for the first time in seven years.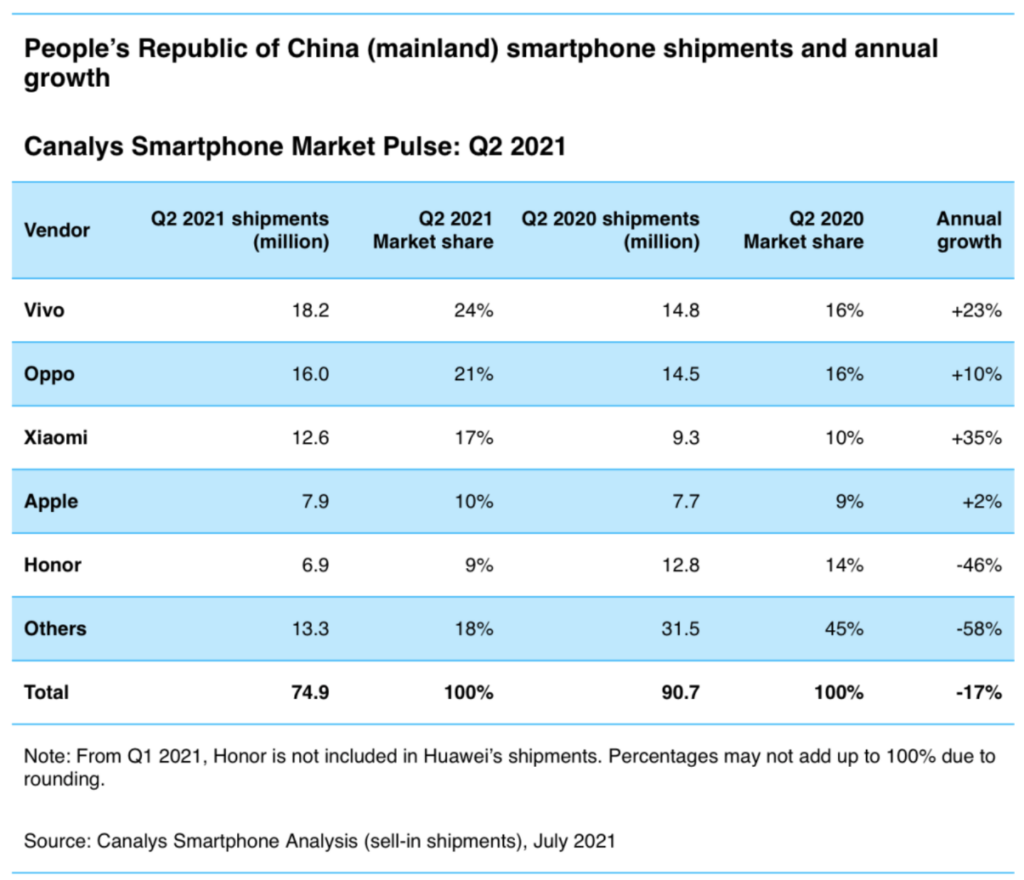 Huawei's goal is no longer to impact the mobile phone market but to cover the entire intelligent ecological industry chain. In 2019, Huawei proposed a 1+8+N ecological strategy. 1 refers to mobile phones, 8 refers to 8 auxiliary entrances such as PCs, tablets, smart screens, and watches. N stands for other smart hardware settings, and Huawei passed the Hi Link protocol and the Harmony OS to link the entire ecology, which is to continuously increase the proportion of its technology, thereby reducing the possibility of being constrained by Western technology giants.
The core suppliers of Huawei's P50 series released this time are all Chinese manufacturers, such as screen panels, radio frequency antennas, fingerprint recognition chips, optical lenses, etc., plus Huawei's self-developed chips and operating systems, Huawei P50 series is also considered to be the smartphone with the highest degree of localization at present.
It is worth noting that the ban on Huawei chips has also made more companies realize the importance of self-developed chips. Vivo, OPPO, and Xiaomi are currently planning self-developed chips.
Xiaomi invested in Pinecore to manufacture the surging chip. As early as 2016, it launched the first self-developed chip S1 and launched its brand-new surging C1 chip at the spring conference this year, which was mounted on Xiaomi's first folding screen mobile phone mix fold. Last September, the OPPO chip R&D center project was settled, following a total investment of 6.55 billion euros in the next three years. Vivo is also revealed to have secretly formed a self-developed chip team two years ago, and its first product will be launched on the X70 series of mobile phones this year.
Huawei's chip production capacity is indeed constrained, but it is also looking for ways to make breakthroughs in the entire chip industry chain, involving semiconductor materials, radio frequency chips, displays, analog chips, EDA, testing, CIS image sensors, lithography computers, third-generation semiconductors, artificial intelligence, and many other subdivisions.
In fact, in the context of the current global chip shortage, chips have become the core to affect the entire technology industry by limiting manufacturing processes or limiting production capacity. To this, Huawei has played a leading role to call all Chinese technology companies for a comprehensive domestic substitution of autonomy. Although it is difficult, this day will eventually come.
(Source: Canalys, Huawei)