On January 10, 2023, Michelle Yeoh, dressed in a black evening gown, delivered her acceptance speech with a shaky voice at the 80th Annual American Film and Television Golden Globe Awards.
When she talked about being a woman over 60 years old, she got fewer and fewer opportunities in the workplace, and her voice was also slightly choked up. At that moment, music was playing on stage to remind her that her time was up. She tactfully turned around and jokingly threatened to beat up Golden Globes producers when they tried to play her off.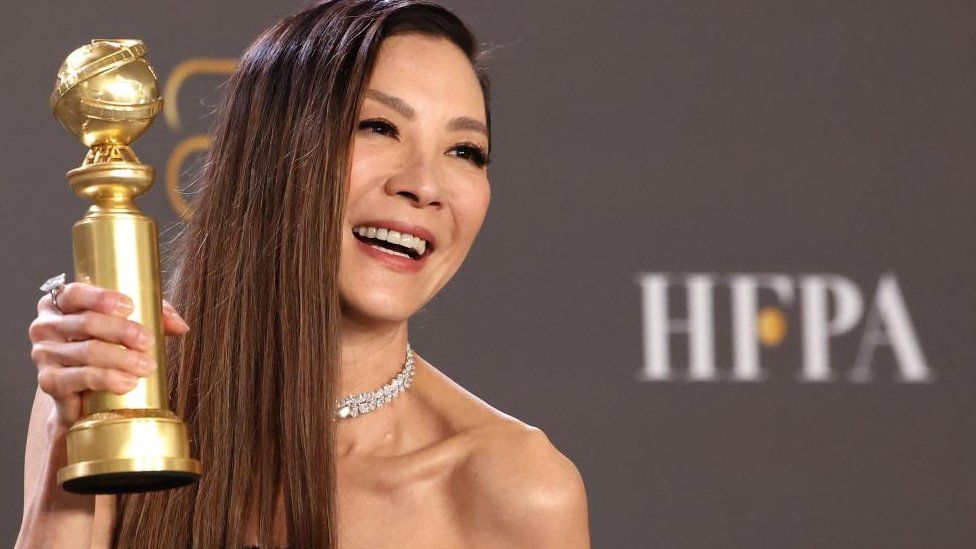 She has been waiting for 40 years to hold the trophy. The phrase "I can beat you up" is a double entendre that sums up her decades-long image as an action movie star, and recalls her role in "Everything Everywhere All at Once" which won her the Golden Globe for Best Actress, and she became the second Asian woman to win this trophy.
40 years of waiting for a suitable role
The 60-year-old Michelle Yeoh is a famous Malaysian Chinese actress in the eyes of the audience, a fighter in "Police Story III – Super Cop", a woman of great love and justice in "Crouching Tiger, Hidden Dragon", and a strong Asian mother-in-law in "Crazy Rich Asians". But in her own opinion, it seems that she still had some regrets about her career.
Then she found a role that perfectly matched her own – the pimply-haired laundress in "Everything Everywhere All at Once".
The middle-aged laundress in the story, Evelyn Wang, is a great contrast to the life of Michelle Yeoh: Wang's life is hard, Wang's whole family depends on her, the weak husband, the dysfunctional father, the rebellious daughter, and endless tax returns, everything can drive her to madness. But by chance, a man who looks like her husband but is from another dimension tells her that she can experience life in multiple universes, and the crisis in each universe can only be saved by her. Therefore, she begins to travel through different lives, and in the process, the tension between her and her family slowly melts away.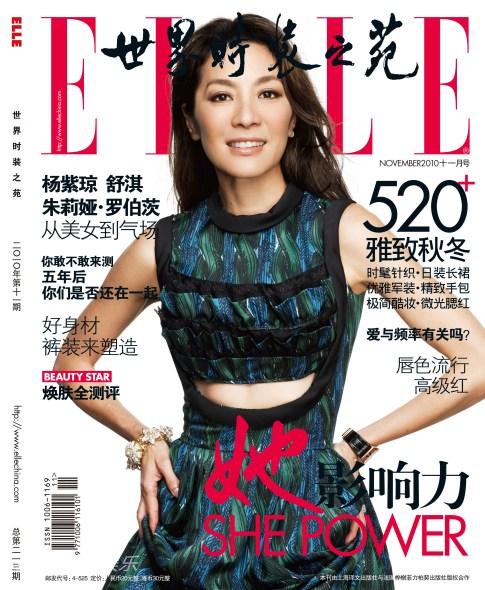 It's not a character of an attractive woman, but it touches Michelle Yeoh. It was also a fortuitous arrangement to make such a film. The film's directors, Daniel Kwan and Daniel Scheinert wanted to cast Jackie Chan as the male lead, but he was not available at the time. They began to change their minds and recreate the script from the perspective of the female lead, allowing a disillusioned middle-aged woman to experience a life of light and darkness.
Michelle Yeoh fell in love with the character and found that she could be "funny, sincere, and sad" and could do everything that her previous characters did not. More importantly, Michelle Yeoh saw in this role not only herself but the real lives of millions of Asian immigrants.
Asian protagonist, female theme, middle-aged disillusionment, etc. A decade or two ago, "Everything Everywhere All at Once" might have been a bizarre piece of work; but in today's time, this risky move to break through big-screen stereotypes succeeds. Michelle Yeoh became a dazzling star in the international film industry in 2022.
A life of fighting
In her 40 years in the industry, Michelle Yeoh has worked with Jackie Chan, Ang Lee, and other famous filmmakers. Many of the filmmakers she has worked with, gave comments that she is not afraid of physical pain and is keen on goals. This personality also becomes her biggest advantage in the film industry.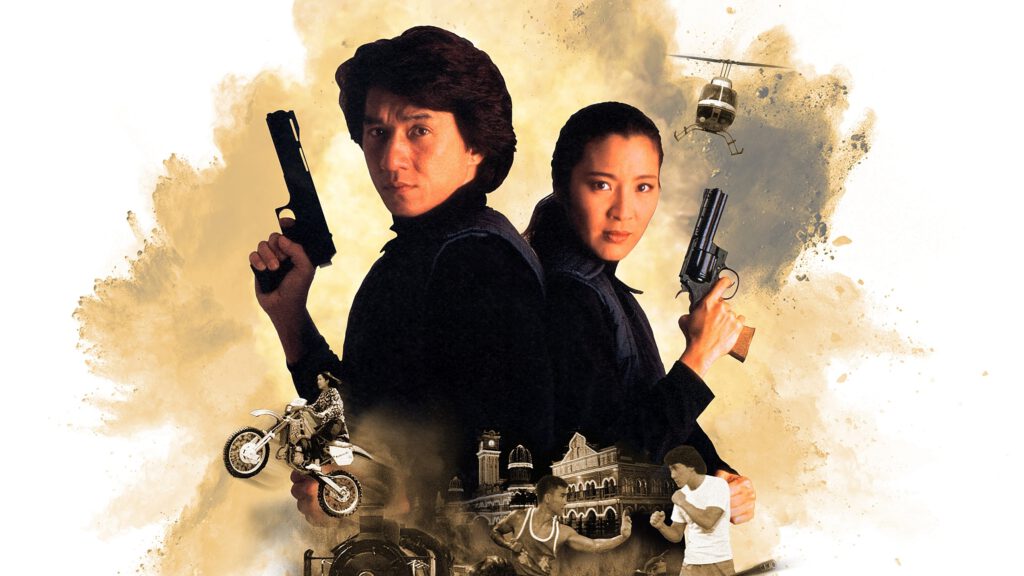 Director Ang Lee has recalled a lot of details when working with Michelle Yeoh. The first thing that impressed him about Michelle Yeoh was her fierce energy. When filming "Crouching Tiger, Hidden Dragon", Michelle Yeoh was injured, she shot late-shift martial arts scenes for several days in a row, with long hours, of turning, kicking, and sparring, as a result, she tore her ligaments and had to recuperate for a month or two.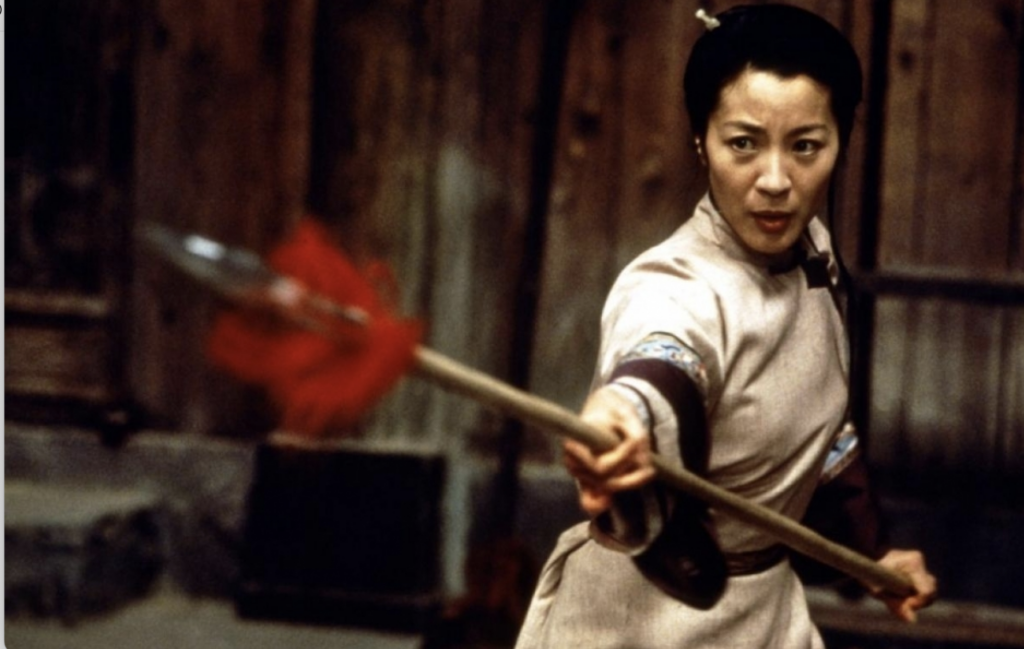 Similar scenes have appeared countless times in Michelle Yeoh's life. Such hardships were her destiny in choosing the film industry in Hong Kong in the 1980s and 1990s. At one time, Michelle Yeoh led a wealthy life, learning various talents such as ballet and painting from a young age, and becoming Miss Malaysia at the age of 21. After joining the film industry, at first, she played soft female roles. Later, to get rid of the classic image of a beautiful actress, she began to learn martial arts, sandbagging, kicking, and training indistinguishably from other men in the martial arts industry.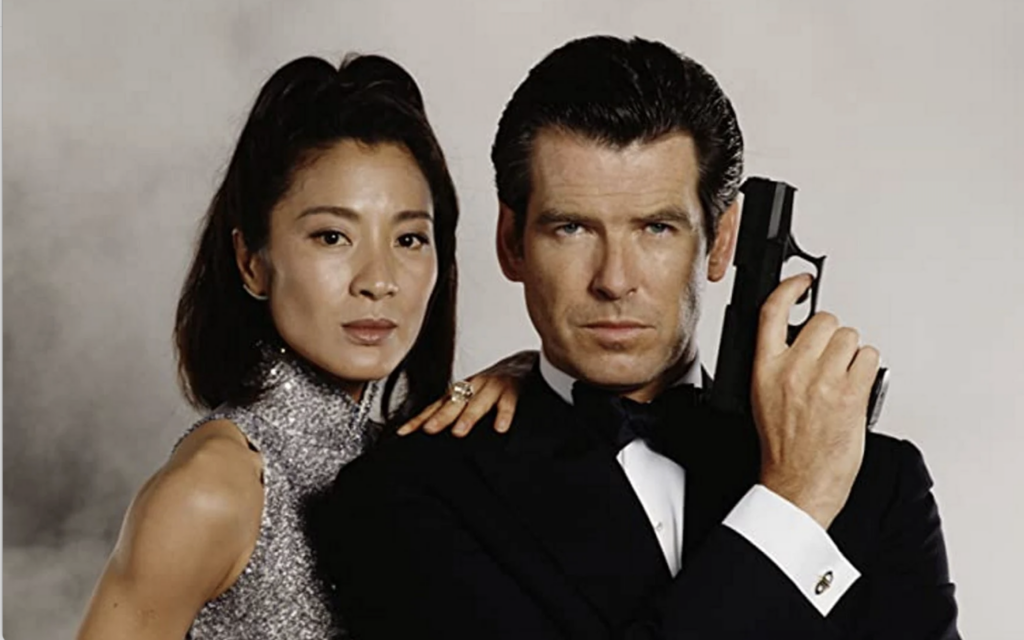 Every shooting chance comes with physical challenges and pain. Over time, risk-taking and bravery became her habit. In 1997, Michelle Yeoh became the only Bond girl in "007: Tomorrow Never Dies" with a series of excellent fighting scenes in Hong Kong films. The Bond girl she played was an extremely independent female figure. Her work has been described as breaking the stereotypes of the positioning actresses in Hollywood.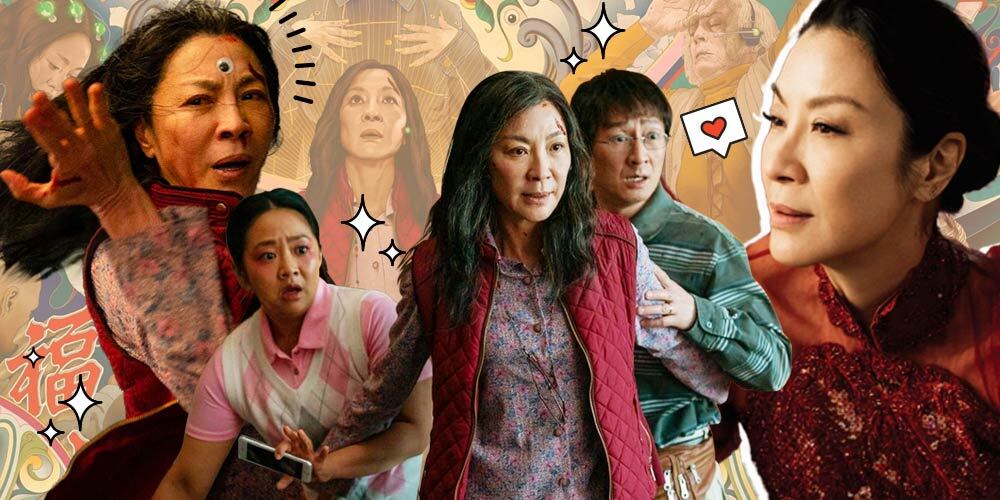 And this time, she finally surpassed herself in all aspects with her performance in "Everything Everywhere All at Once". It is a dizzying work with a mix of genres and complex presentation, illusion, and reality, withdrawal and devotion, irony and warmth, madness and tenderness, etc. All the contradictions are gathered in this story, and more so in the female protagonist played by Michelle Yeoh. She has to switch between different states and make the audience believe in each of the characters in the specific universe.
The film, with an investment of only $25 million, in cooperation with Michelle Yeoh, may have provided a complex but touching and funny interpretation of the lives of Asian immigrants. Plus, Michelle's career route and performance also give voice to Asian immigrant groups who have been working hard for generations and making efforts to improve family livelihoods.
(Source: CNN, BBC, IndieWire, Filmy online zdarma, Variety, Cosmopolitan Indonesia)