USCBC and Oxford Economics Announce Release of Job Study Report
Today, the US-China trade relationship actually supports roughly 2.6 million jobs in the United States across a range of industries, including jobs that Chinese companies have created in America. And as the Chinese middle class continues its rapid expansion over the next decade (the number of Chinese middle-class consumers will exceed the entire population of the United States by 2026), US companies face significant opportunities to tap into a new and lucrative customer base that can further boost employment and economic growth. Economic data show that nations trading closely with China outperform nations with less integrated trade ties, and we expect this trend to continue.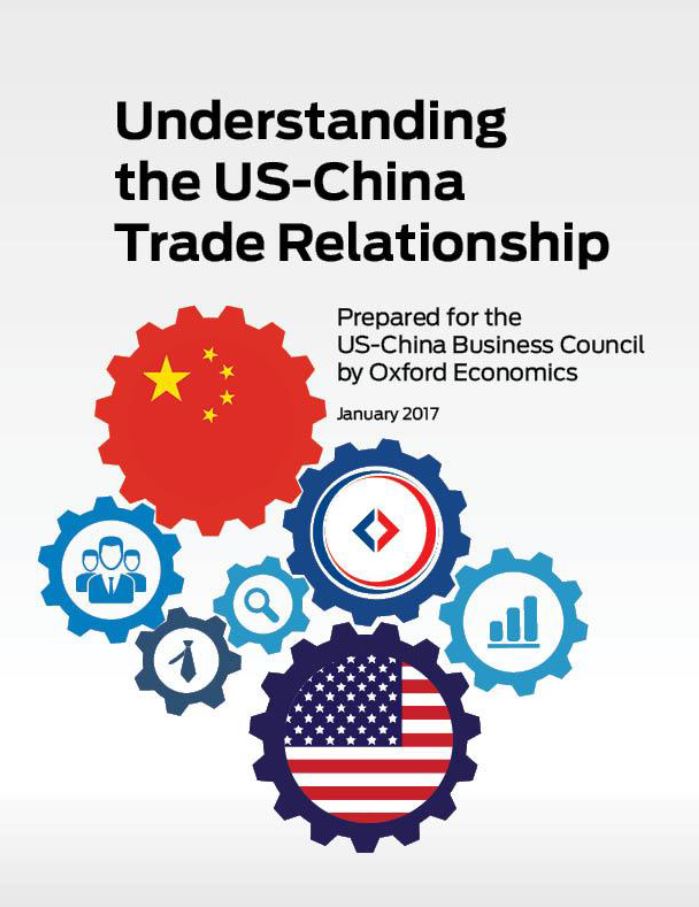 Examples of the benefits to the US economy from trade with China include:
China purchased $165 billion in goods and services from the United States in 2015, representing 7.3 percent of all US exports and about 1 percent of total US economic output.
Although some US manufacturing jobs have been lost because of the trade deficit, US firms sell high-value products to China, including cars and trucks, construction equipment, and semiconductors, which support jobs. US firms also export business and financial services, totaling $6.7 billion in 2014 and $7.1 billion in 2015. By 2030, we expect US exports to China to rise to more than $520 billion.
As China has become an integral part of the global manufacturing supply chain, much of its exports are comprised of foreign-produced components delivered for final assembly in China. If the value of these imported components is subtracted from China's exports, the US trade deficit with China is reduced by half, to about 1 percent of GDP—about the same as the US trade deficit with the European Union.
America's 11th-largest export market in 2000, China has grown to become the third-largest destination for American goods and services. US exports to China directly and indirectly supported 1.8 million new jobs and $165 billion in GDP in 2015. When the economic benefits generated from US investment in China and Chinese investment in the US are combined, the total amounts to 2.6 million US jobs and about $216 billion of GDP.
China is expected to continue to be one of the fastest growing major economies, creating growth opportunities for American companies— provided China proceeds with economic reforms that will remove lingering market access barriers in many sectors.

Chinese manufacturing also lowered prices in the United States for consumer goods, dampening inflation and putting more money in American wallets. At an aggregate level, US consumer prices are 1 percent – 1.5 percent lower because of cheaper Chinese imports. The typical US household earned about $56,500 in 2015; trade with China therefore saved these families up to $850 that year.
Since 2003, productivity growth in US manufacturing outpaced most advanced economies. Oxford Economics calculates that US manufacturing productivity increased by 40 percent from 2003 to 2016, or 2.5 percent annually, compared with 23 percent in Germany. Meanwhile, rapidly rising factory wages and a rising currency make Chinese workers relatively less cost-competitive than their American counterparts. US factories are still 90 percent more productive than Chinese manufacturers. These trends may lead to some "reshoring" or retention of manufacturing jobs in the United States.
(Source: www.uschina.org/reports/understanding-us-china-trade-relationship)