At the invitation of Chinese President Xi Jinping, Russian President Vladimir Putin visited China on February 4 and attended the opening ceremony of the Beijing Winter Olympics. During the visit, the two countries issued a joint statement on international relations and sustainable global development, following the signatures of nearly 20 cooperation documents covering economic and trade, investment, energy, sports and other fields, laying a solid foundation for further deepening and strengthening bilateral cooperation.
In the joint statement, Russia and China proposed that both sides oppose the continued expansion of NATO, call on NATO to abandon the ideology of the Cold War era, respect the sovereignty, security, and interests of other countries and the diversity of civilizations, history, and culture, meanwhile opposing the construction of a closed alliance system in the Asia-Pacific region, the confrontation between camps, and the Indo-Pacific strategy promoted by the United States to make instability in the region.
Under the so-called "diplomatic boycott" of the Beijing Winter Olympics by some Western countries, this joint statement undoubtedly announces that the strategic cooperation between China and Russia in the new era has started to accelerate. What are the new trends in the strategic cooperation between Russia and China?
During Putin's visit, the long-discussed Sino-Russian-Mongolian gas cooperation project gained a breakthrough. Gazprom and China National Petroleum Corporation (CNPC) signed a long-term Sales and Purchase Agreement for natural gas to be supplied via the Far Eastern route, which means that the Russian side will increase its pipeline gas supply to China by 10 billion cubic meters per year, which, together with the volume of the Power of Siberia pipeline, will bring the total gas supply to China to 48 billion cubic meters per year. Also, Russia will continue to supply 100 million tons of crude oil to China via Kazakhstan for 10 years.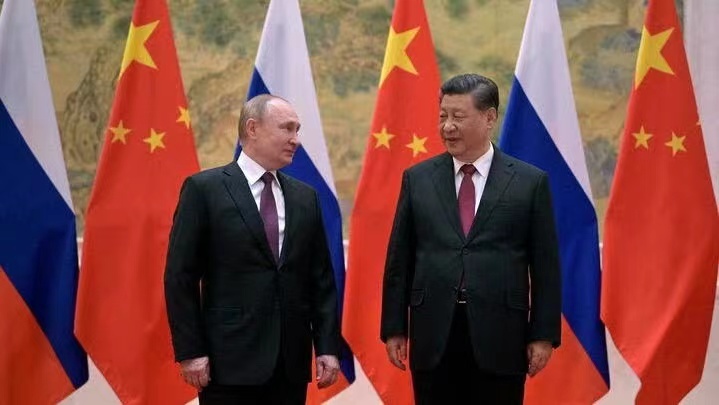 As of January 2022, CNPC had imported more than 300 million tons of crude oil and more than 15 billion cubic meters of gas from Russia in total. China is the world's largest energy consumer, and the stability of its energy supply is critical to its economic growth. China is relatively rich in energy reserves, but it is characterized by rich coal and poor oil and gas supplies, so its external dependence on oil and gas remains at a high level. For Russia, energy is the mainstay of its economy, and 75% of the Russian government's revenue depends on energy exports, so further increasing oil and gas exports is an important strategy for Russia. Thus, strengthening energy cooperation is fully in line with the strategic interests of both sides and is a concrete manifestation of a comprehensive strategic cooperative partnership between the two countries in a new era.
The energy cooperation will also relate to nuclear energy. China's several units of the Tianwan Nuclear Power Plant in Lianyungang, Jiangsu Province, and the Xudabao Nuclear Power Plant in Huludao, Liaoning Province, are important projects in the Sino-Russian cooperation agreement in the field of nuclear energy.
At present, natural gas accounts for about 10% of China's energy consumption, while coal still accounts for more than 50%. Under the "dual carbon" goals, China's gas consumption is estimated at 500-600 billion cubic meters, while China's gas production in 2021 was only 205.3 billion cubic meters. It can be said that China is a stable and huge market for Russian gas.
For a long time, about 1/3 of Europe's crude oil and 40% of its gas came from Russia, but in recent years the United States has gradually increased its gas exports to Europe, thus trying to suppress the joint German-Russian Nord Stream 2. German Chancellor Scholz talked with the U.S. President Joe Biden on February 7, and will talk with Russian President Putin on February 15. The energy debate is becoming a game of international geopolitical and strategic interests.
As a result of the comprehensive and severe economic and financial sanctions imposed on Russia by the European Union since the 2014 Ukraine crisis, the trend for the EU is to reduce its gas and oil imports from Russia. To make the negative impact on its energy export-based economy as small as possible, Russia is vigorously developing new oil and gas export markets, especially in the Asia-Pacific region and Eastern countries. In this sense, increased Russian-Sino cooperation in gas and oil will help Russia break Western economic sanctions. Even if Europe resists Russian gas, China will be able to absorb it. This gives the US and Europe less space to threaten Russia through the Nord Stream 2 project.
Stated in the Treaty on Good-neighborly Relations and Cooperation, the strategic task for Russia and China is to translate the unprecedented high level of political relations between the two countries into practical cooperation in the economic, cultural and other fields. The trade volume between Russia and China exceeded $140 billion for the first time in 2021, but it is still far from the goal set by both countries to reach $200 billion in a few years. There the joint statement points out that energy cooperation is one of the areas with considerable potential.
According to the data of the Chinese Ministry of Commerce, the volume of trade in goods between China and Russia reached $146.87 billion in 2021, up 35.9% year-on-year. Faced with the double test of recurring global epidemic and sluggish economic recovery, energy cooperation is significant for Sino-Russian economic and trade cooperation to move forward against the trend.
Sino-Russian energy cooperation is also conducive to weakening the role of U.S. financial sanctions. China and Russia have re-emphasized that the means of payment for China's oil and gas imports from Russia will expand the share of euros, yuan and rubles. Nearly 90% of China-Russia trade settlements in 2015 used dollars, which had fallen to 46% in 2020, and the share of settlement of euros, yuan, and rubles rose to 30%, 17% and 7%. If this momentum continues, the era when the US abuses its financial hegemony and political influence will eventually end.
(Source: Xinhua, rfi, Global Times)