"Look world, Taiwan will only show you once how to remove a Level 3 alert in two weeks."
In mid-May, when the COVID-19 epidemic broke out in Taiwan, this boast from a Taiwanese quickly became popular, which encouraged a lot of Taiwanese.
However, not only did the Taiwan DPP authorities fail to effectively contain the epidemic, the epidemic situation in Taiwan has become more severe.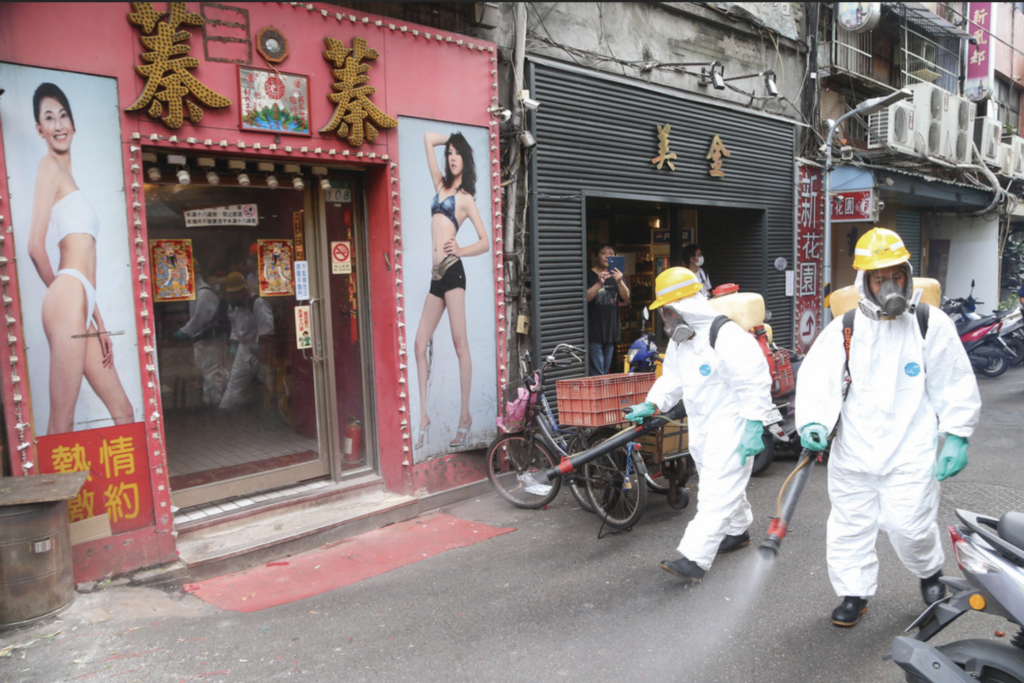 The confirmed man at the source of the outbreak in Taiwan lied to the medical staff about his contact history for around a week. The man had a prostitution service in a "tea house." He thought that it was normal not to mention his "tea time" since no men will admit it publicly and "enjoying tea time" is so common in Taiwan. On May 24, Time magazine published an article "How a False Sense of Security, and a Little Secret Tea, Broke Down Taiwan's COVID-19 Defenses," ironically pointed out that "all it took to break down the world's most vaunted COVID-19 defense was a little secret tea."
According to the Taiwan Centers of Disease Control, as of 11 June, 12,500 cases were confirmed.
Why not accelerate the vaccination?
Before this wave of local epidemics broke out, the local infection rate in Taiwan was relatively low, and many people felt that there was no need to be vaccinated.
Secondly, the safety of the vaccine is seriously doubted by Taiwan people, especially since the Oxford/AstraZeneca vaccine has been confirmed to cause death and blood plots in some cases, and this vaccine is currently the main choice in Taiwan.
In addition, the Taiwan authorities have been slow to purchase vaccines, and the number of vaccines they have obtained is very small. There are only a few hundred thousand doses of vaccine in Taiwan with a population of more than 23 million. About 5 million doses of the Modena vaccine purchased from the United States have not yet entered Taiwan.
Why not produce its own vaccines?
On 30 May, the DPP authorities suddenly announced that they would purchase 10 million doses of self-produced vaccines that have not even been tested in the third phase. When asked if he dared to fight, DPP leader Shen Fu-hsiung said bluntly "of course not" since there are many issues of Taiwan's self-produced vaccines. They not only cannot be tested in the third phase but there is no way to prove their effectiveness.
Taiwanese doubt that since the trials have not been completed, why the Ministry of Health and Welfare hastily contracted to purchase? Is it to protect the self-produced vaccine or to invest in more stock shares? Jaw Shaw-kong, a Taiwanese media personality, criticized that the DPP was really bold and completely ignored the opinions and criticisms of scholars, experts, and media, and insisted on going its own way.
Taiwanese vaccines can hardly gain international certification
According to Taiwan's United Daily News report on June 9, Chen Pei-jer, a Taiwanese hepatologist and an academician of Academia Sinica, said during an interview that Taiwan's self-produced high-end, Lianya specializes in inactivated vaccines, but this time it is doing protein subunit vaccines. The vaccine used the wrong technology and it is impossible to pass the Emergency Use Authorization (EUA) in July.
Also, he emphasized that the Taiwan authorities have problems with the development of Taiwan-produced vaccine policies, execution capabilities, and scientific evaluation of policies. "The biggest difficulty with vaccines is Tsai Ing-wen," Chen Pei-jer said. "Taiwan is betting on protein, and the DPP authorities just don't believe in science." He said that Tsai Ing-wen has publicly announced that the island's self-produced vaccines will be launched in July. Now the Food and Drug Administration of Taiwan is under pressure and can only speed up the clearance of Taiwan to produce vaccines. However, as a scientist, he must be honest, so he resigned at the end of May due to this climbing dissatisfaction of irresponsible intervention and ignorance of Taiwanese politicians.
Mainland China sincerely proposes to supply vaccines
Taiwan media ETtoday mentioned that many Taiwanese businessmen have recently traveled to cities such as Shanghai and Xiamen in mainland China for vaccinations since China is near Taiwan and the procedures are also easy there. According to the COVID-19 vaccination regulations promulgated by Shanghai, from 19 April, Taiwan residents can use the Taiwan Compatriot Permit to make an appointment online and wait for notifications from relevant departments to get free vaccinations at the designated time and place.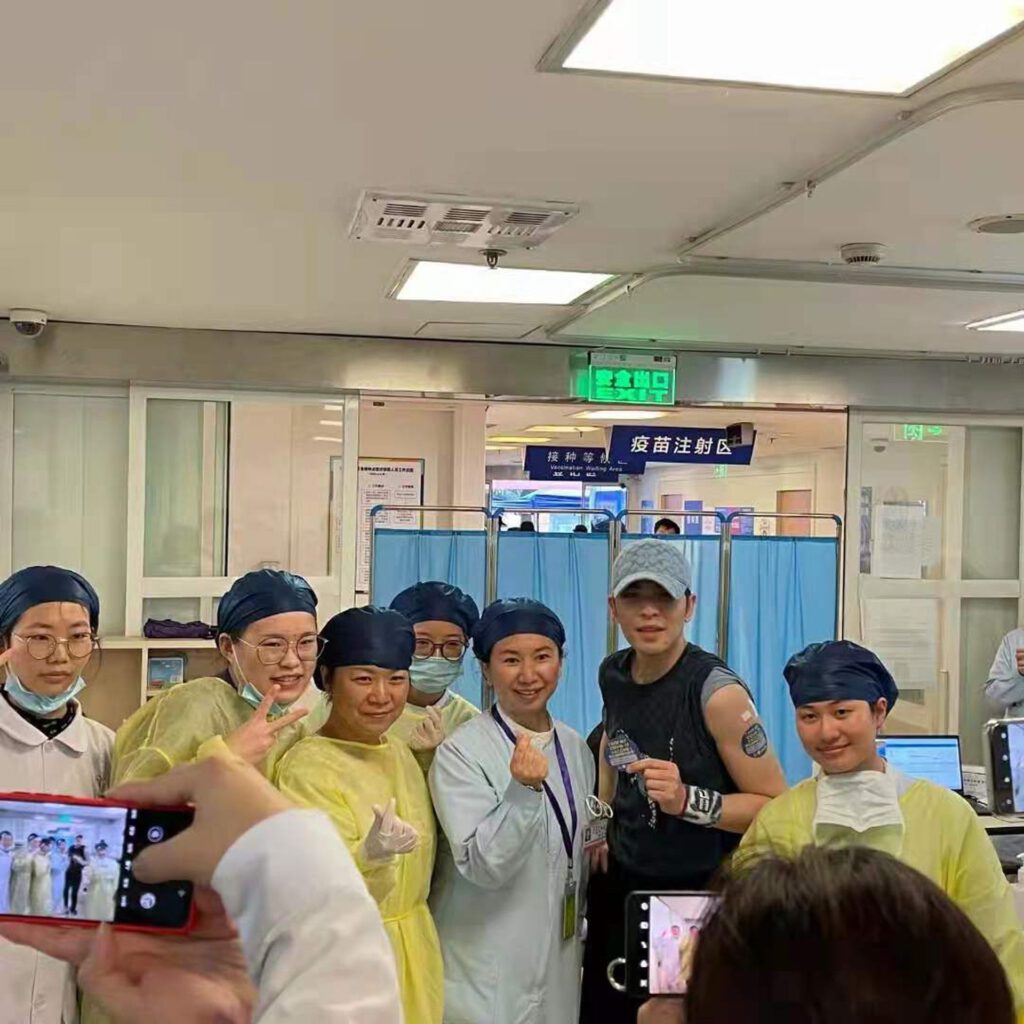 Taiwanese singers Jam Hsiao and Pan Mei-chen have announced on Sina Weibo, a Chinese microblogging website, that they have been vaccinated in mainland China.
Ma Xiaoguang, a spokesperson of the State Council Taiwan Affairs Office of mainland China, said on 4 June that only by receiving safe, efficient, and sufficient amounts of vaccines can Taiwan effectively resist the virus. Since the outbreak in Taiwan, the Chinese government has repeatedly expressed its willingness to help Taiwan compatriots respond to the epidemic as quickly as possible, and China is willing to provide Taiwan compatriots with vaccines from mainland China that are included in the global Emergency Use Authorization by the World Health Organization.
DPP firmly rejects Chinese vaccines to maintain intense situation
The Taiwan authorities preach that the mainland is willing to provide vaccines to Taiwan as "political operation," "fake good intention," and "engage in a united front." A firm fact is that more than 90 countries and regions in the world have used Chinese vaccines and the effects go well. It must be pointed out that the DPP authorities have been deeply politically brainwashed by the US and Japan for a long time so that they are against everything from China without any reasonable reasons.
In addition, while the United States is in fierce conflict with mainland China, it has imported more than 120 masks for every American from mainland China, and also imported a large number of Chinese ventilators and other epidemic prevention equipment. The relationship between India and China has been very tense in the past two years, but Indian politics is politics, and epidemic prevention is epidemic prevention. They regard mainland China as the largest source of life-saving equipment such as oxygen generators in Indian hospitals. Taiwanese politicians need to ask themselves whether the political conflict is more important than the lives of the Taiwanese people.
DDP's kiss in exchange for American and Japanese shits
On 28 May, many Taiwanese media reported that the Japanese government is considering providing part of the purchased AstraZeneca vaccine to Taiwan. On 4 June, Japan's 1.24 million doses of AstraZeneca vaccine arrived in Taiwan. Taiwanese politicians such as Tsai Ing-wen gave sincere thanks to Japan, and let the Taipei 101 building use the lights to scroll through the words such as "cooperate to fight the epidemic", "Taiwan-Japan friendship lasts forever", "Taiwan loves Japan", and "Hold hands and forward together."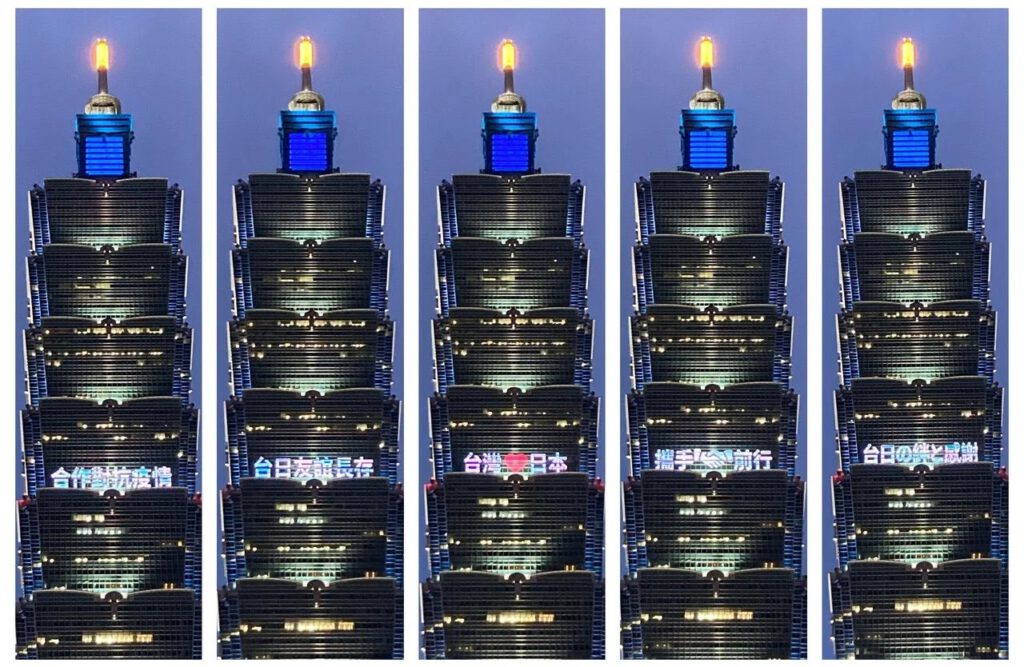 However, Japan's Sankei Shimbun and Mainichi Shimbun reported on 28 May that though the Japanese government signed a contract for the supply of 120 million doses with AZ, approved 90 million doses to be produced domestically on 21 May, and has begun mass vaccination in the country, due to the suspicion of thrombosis of the AZ vaccine, Japan has decided to exclude the AZ vaccine from publicly funded vaccination and supply it to Taiwan. As for the US, it will only donate Taiwan AZ vaccine which is prohibited to be used domestically in the US as well.
The spread of the epidemic in Taiwan continues to hit peaks, and the lives and health of the people continue to be damaged. However, the DPP continuously politicizes the fight against the epidemic. Fewer infections and fewer deaths are by no means the authorities' primary consideration. Taiwan is experiencing the worst fight against the epidemic in the world.
(Source: udn, ujoy, topick, Global Times, BBC)