No matter Europe accepts or not, it is lagging far behind in the digital era. While the Chinese technology companies develop rapidly and gradually win more market shares worldwide though under continuous suppression from the American government. Lack of digital advantages don't provide Europe peace in the technological battleground, but only expose this weakness to the competitors and witness them tramping over it.
Europe achieved something in technology these years: Spotify in Sweden; Deliveroo in the UK; Auto 1 in Germany; Adyen in the Netherlands…but it's not good enough when placing Europe's advancements in the global market. In 2020, the world has 586 known unicorns – startups valued at least 0.83 billion euro, among them the US has 233 unicorns (39.8%), China has 227 unicorns (38.7%), and other 27 countries share the remaining 126 unicorns (21.5%), of which the UK placed the third with 24 unicorns, India listed fourth with 21, and South Korea fifth with 11.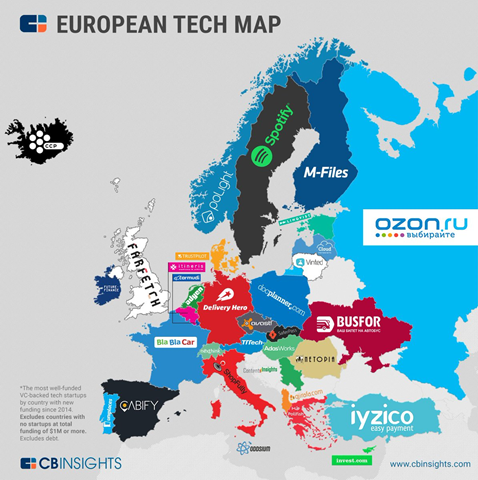 "The US and China continue to dominate despite representing only 40% of the global GDP and 25% of the global population," said Rupert Hoogewerf, chairman and chief researcher of Hurun Report, a luxury publishing group based in Shanghai, China. Though the US is a bit ahead of China, China owns the top four unicorns: Ant Group, the digital financial services serving Alibaba Group Holding, valued at 123.85 billion euro; ByteDance, owner of video-sharing platform TikTok, valued at 66.05 billion euro; Didi Chuxing, China's biggest ride-hailing services provider, valued at 45.41 billion euro; Lufax Holding, online wealth management and peer-to-peer lending platform, valued at 31.37 billion euro.
80% of the global unicorns' business is about e-commerce, fintech, AI, and Software. The US is always the heaven for technological innovations, and the Department of Commerce of the US reports that technologic innovation has strong interactions with the American economic growth since the end of WWII, and the Chinese government has encouraged and supported the research, development, and practice of technology for decades of years, so it's not a surprise that the both dominate these businesses. "The rest of the world needs to wake up to provide an ecosystem that allows unicorns to flourish," commented Hoogewerf.
Comparing to GAFA in the US, BATX in China, Europe doesn't have any technology giants, which is often explained as the differences among the European countries bring significant difficulties to its integrating technological development. Many Europeans are opposed to innovation and refer it to unnecessary needs, it can be true for certain individuals, but not for a nation. "I know that some people do not agree with this… We are no longer living in times in which our economies can develop as if they were closed, as if talented people no longer moved around and as if entrepreneurs were tied to a post.," worried Emmanuel Macron, the French president. The good reaction the EU gives is the RGPD, a regulatory framework to protect its digital sovereignty over foreign technology's invasions.
RGPD is more about self-protection, to survive and to lead the race the EU needs to retrieve innovation. "We must drive this ambition, finance research in new areas such as AI, and accept risks," suggest Macron.
Simply speaking, innovation is nothing less than the creation of new value for the world, but the process starts from the ideological level, which means an innovative society has innovative culture at first, a core direction Europe needs to head to.
Europe has a relatively strong social and national conservatism related to changes, to reverse such an attitude requires a long period. Clayton Daniel Mote Jr, President Emeritus of the National Academy of Engineering in the US, points out that effective innovation is successful at the organizational level. To be precise, if Europe wants to build an innovative environment, it needs to have strong leadership committed to innovation, to deploy minimal hierarchy in decision making, to value disparate talents and entrepreneurship, to move quickly but adapt readily, and to tolerate risk and failure. Among these suggestions, Europe has many to-be-done improvements.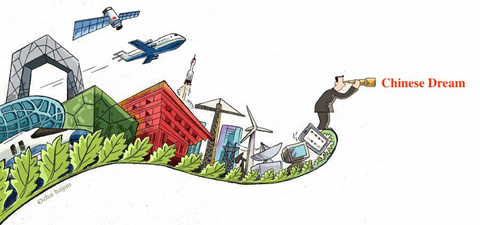 In 1985, the Chinese government issued the "Decision on the Reform of the Science and Technology Management System", since then the whole nation applies the following related decisions, and within 35 years China has achieved impressive success in innovation. It's important to remark that American and Chinese policymakers can well implement a policy environment including financial market, education, tax, competition, regulatory, and labor policy. They can do so by ensuring that government agencies themselves realize the importance of the technological force to a nation for the long-term and they become early adopters and procurers of innovative technologies, and that is what Europe really needs to achieve now.
(Source: BusinessWorld / le monde / China Daily / yahoo.com)