Polysilicon, the main source of materials in the production of solar cells and semiconductor devices. On 12 May 2021, Bernreuter Research, a reputable German research company focusing on the global polysilicon market, published its latest ranking of the top 10 polysilicon producers in the world and pointed out that though over two decades, the polysilicon industry has dominated by 7 manufacturers running 10 polysilicon plants in the United States, Germany, Italy, and Japan, in 2022, the world's 4 largest polysilicon manufacturers will all be based in China.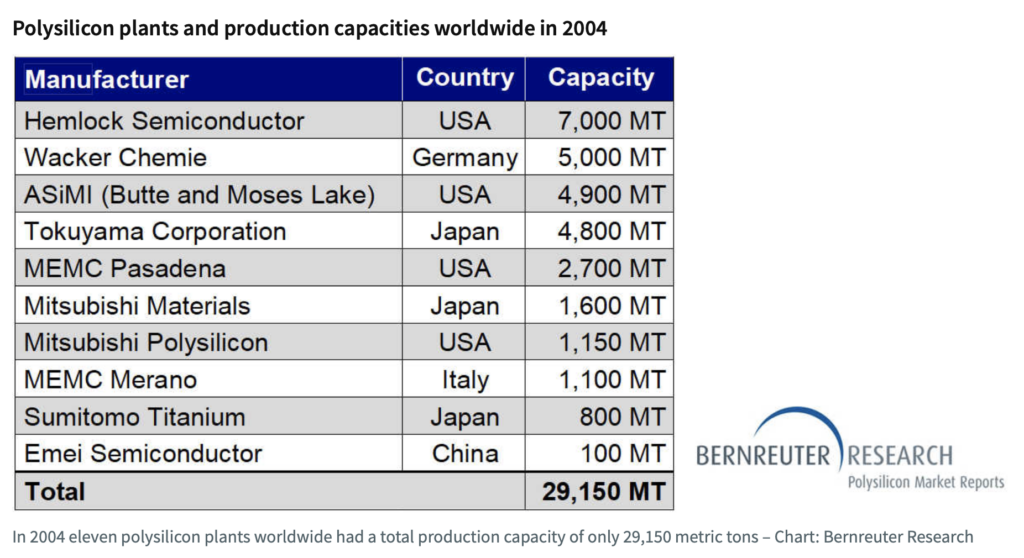 Back in 2004 when the global photovoltaic industry was booming, photovoltaic-grade polysilicon materials were a bottleneck restricting the development of China's photovoltaic manufacturing industry. At that time China only had 1 domestic-based polysilicon manufacturer, Emei Semiconductor, that existed negligibly in the industry with an extremely tiny annual production.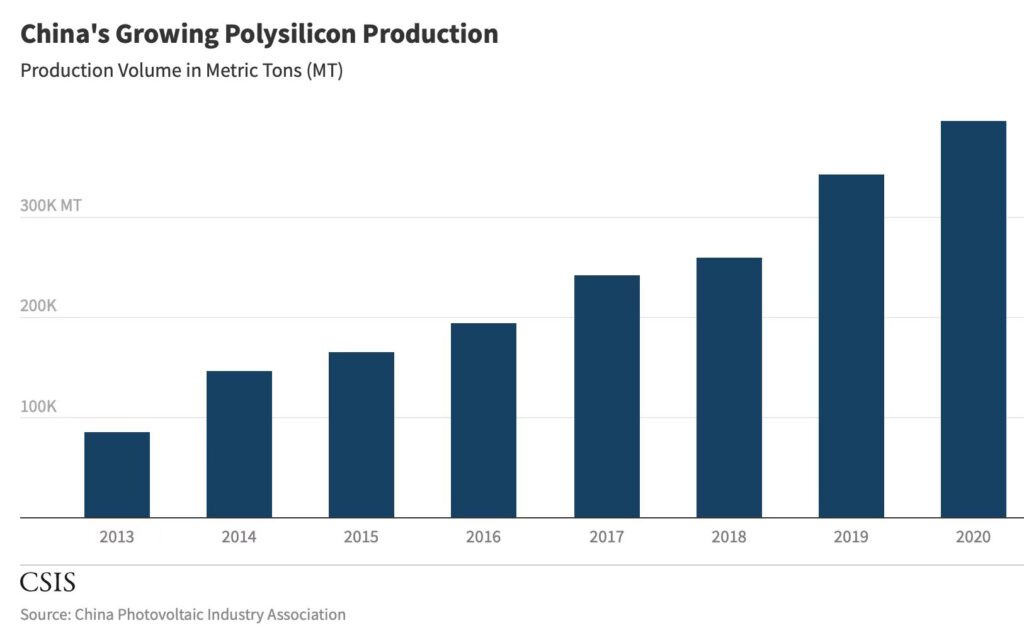 However, as early as the 1950s and 1960s, China had already begun to study semiconductors. By the end of the 1970s, there were more than 10 polysilicon production companies in the country located in Shanghai, Chongqing, Sichuan, Jiangxi, and other places, but the key production technology had been controlled in Germany, the United States, Japan, and other countries. China was unable to achieve breakthroughs for decades.
Around 2004-2005, the global photovoltaic market began to develop rapidly. However, due to the limited output of companies that could produce polysilicon materials, and the semiconductor industry already had a mature market at that time, silicon material manufacturers gave priority to ensuring the needs of semiconductor companies before turning to photovoltaics.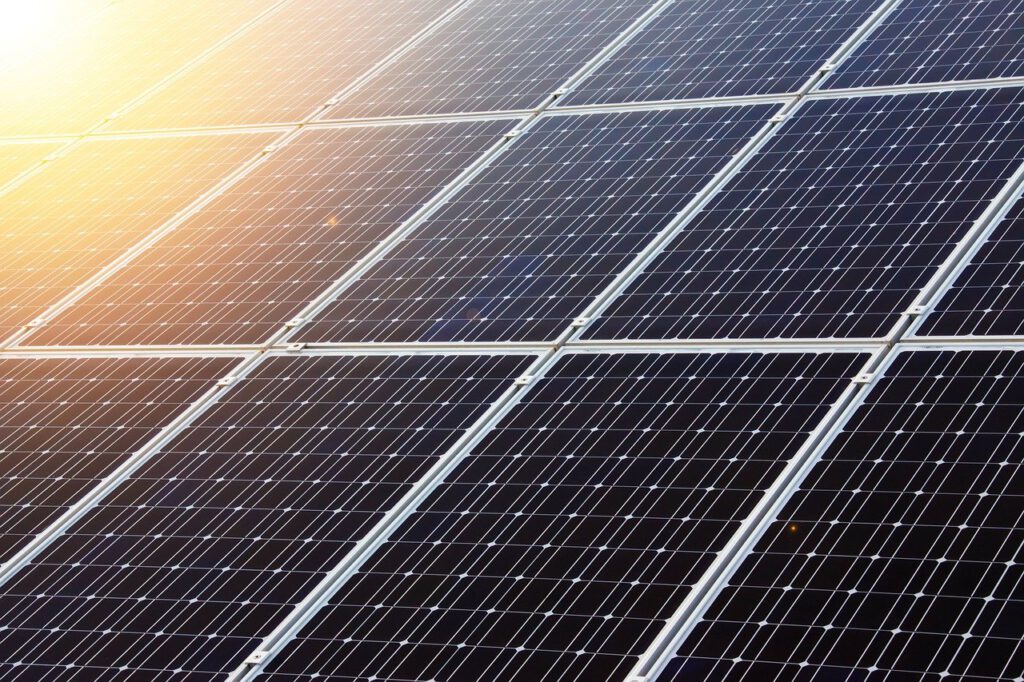 To solve the supply problem, Chinese company GCL New Energy bought reduction furnaces from a German private company that provides equipment for Wacker. The reduction can be used to obtain pure high-grade polysilicon from the purified trichlorosilane, a step that Chinese technology couldn't achieve at that time, In 2007, using these furnaces, GCL New Energy built the first polysilicon production line with an annual capacity of 1,500 tons in Xuzhou, Jiangsu Province, China. When the second 1,500-ton per year production line was put into operation in 2008, China could already produce and improve the reduction furnace.
Before the global financial crisis in 2008, GCL expanded its production successively and connected three production lines with a capacity of 5,000 tons per year, with a total scale of 18,000 tons per year, making it the largest polysilicon producer in Asia. Now, GCL has carried out a large number of independent innovations in key technologies such as hydrochlorination, de-disproportionation, high-efficiency chemical vapor deposition, and polysilicon ultra-large-scale clean production technology to completely recycle all materials. Compared with the processes adopted by Hemlock, OCI, and WACKER, GCL's process is shorter, the material and energy utilization rate is higher, and it not only greatly reduces production costs but also achieves clean production and green manufacturing of polysilicon with zero-emission.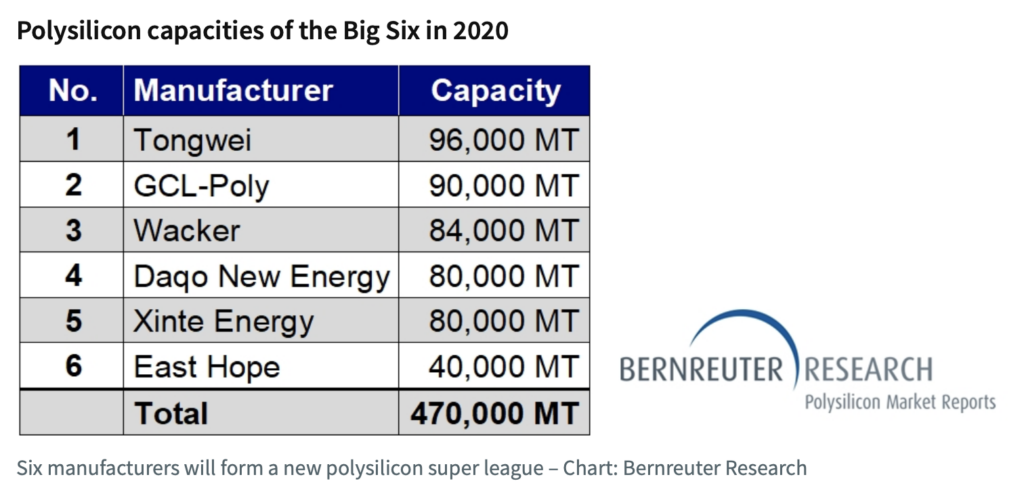 At present, whether Chinese factories in Jiangsu or Xinjiang, the equipment localization rate has exceeded 95%. Compared with imported equipment, China's domestic equipment procurement and subsequent operation and maintenance costs are more than 30% lower, and the overall technical level is already in an international leading position.
On 23 June, the U.S. Department of Commerce added 5 Chinese companies to the Entity List, including Hoshine Silicon Industry, Xinjiang Daqo New Energy, Xinjiang East Hope Nonferrous Metals, Xinjiang GCL New Energy Material, and Xinjiang Production and Construction Corps in the name of violations and abuses of the Uyghurs and other Muslim minorities. Behind this excuse, the real reason is that some of the companies produce monocrystalline silicon and polysilicon that are used in solar panel production, and Xinjiang is an important production area for polysilicon production in the world.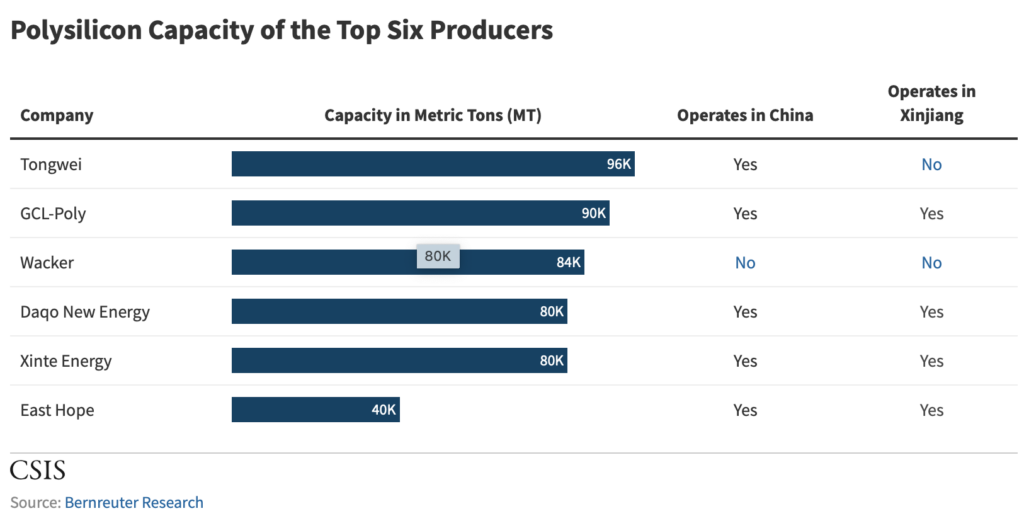 Among the former largest manufacturers, Wacker, Mitsubishi, Sumitomo Titanium, and Hemlock already began to produce massive amounts of polysilicon since 1959, the rest followed the pace since the mid-1970s. And Japanese companies have deep connections with the United States. The latter actively transferred advanced technology to Japan in the 1950s, accelerating the development and increasing the production of semiconductor sectors and other electronic industries in Japan. To contain Japan's technology development, in 1985, the US initiated a Section 301 case over alleged dumping of Japanese electronic products to regain market share in the global semiconductor industry.
Therefore, it is not the first time that the U.S. finds reasons to contain the production of polysilicon in other countries, but when the U.S. did so to Japan, the polysilicon was mainly used for semiconductor, and now, China uses it for photovoltaic which the U.S. already develops behind China.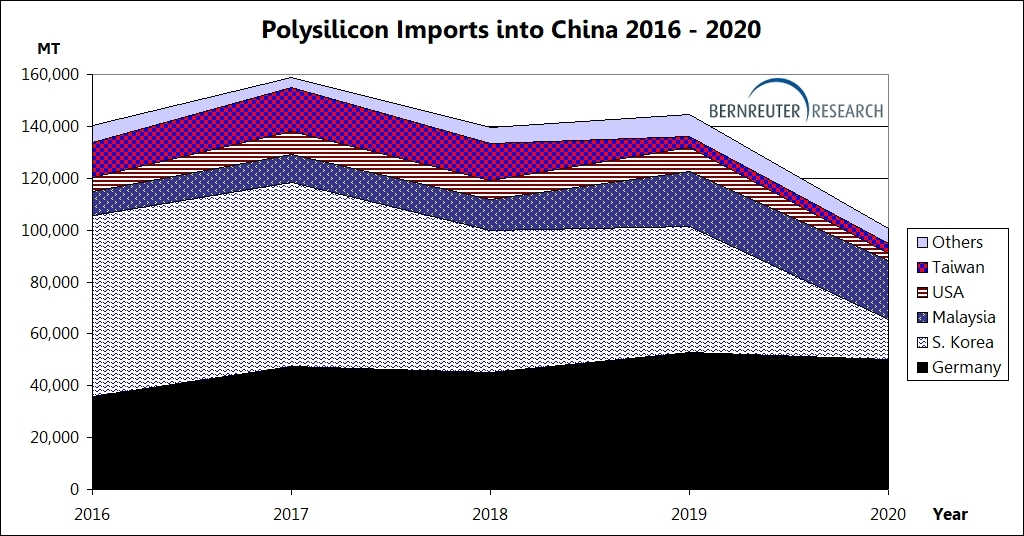 In the future, some countries led by the United States will inevitably strengthen the containment of China's polysilicon and photovoltaic industries to achieve technological hegemony. However, China's polysilicon production has undergone severe technical blockades and has achieved technological breakthroughs to reach the world's leading level through efforts. China is not afraid of and is used to dealing with external pressures, and it will always move forward courageously.
(Source: Bernreuter Research, Global Times, Center for Strategic & International Studies)