On April 15, the BCI official website secretly delisted the statement announced in October 2020 against Xinjiang cotton, allowing Xinjiang cotton products to enter the blacklist of international trade with many political forces involved.
Why BCI? Why Xinjiang cotton? How it affects China and Xinjiang? What do some political forces want?
Why can BCI affect the recognition and acceptance of cotton?
Better Cotton Initiative (BCI) is a non-governmental organization established in Switzerland in 2009. The start-up funds for BCI came from the Dutch Rabobank and WWF, but banks and foundations could not continue to sponsor them. The solution they thought of was to charge the company a membership fee.
BCI has nearly 2,000 global members, many of which are world-class well-known brands including H&M, Nike, etc. BCI provides these brands with a list of "qualified suppliers" certified by it.
The BCI certification not only covers the quality of cotton but also ensures that the cotton is obtained by workers "decent work", that is, not through the employment of child labor, human rights violations, etc., which will affect the company's brand image.
When more and more international giants joined BCI, the organization has gradually changed from a private industry association to an existence similar to "international standards".
Whether getting BCI certification will affect the sales of companies and farmers. If the cotton from which origin cannot be certified by the BCI, it will be defaulted by the major brands as substandard products and will be removed from their supply chain.
What is the relationship between BCI and China? On March 1, 2020, the Australian Institute for Strategic Policy (ASPI) released a false report advertising that they have found 380 suspected "concentration camps" in Xinjiang according to the latest "satellite images". Though the places are actually local nursing homes, logistics parks, business information bureau, local primary and secondary schools, etc., this move has an immediate effect – Xinjiang cotton was kicked out of BCI certification in the same month, causing Xinjiang cotton to be banned by major brands.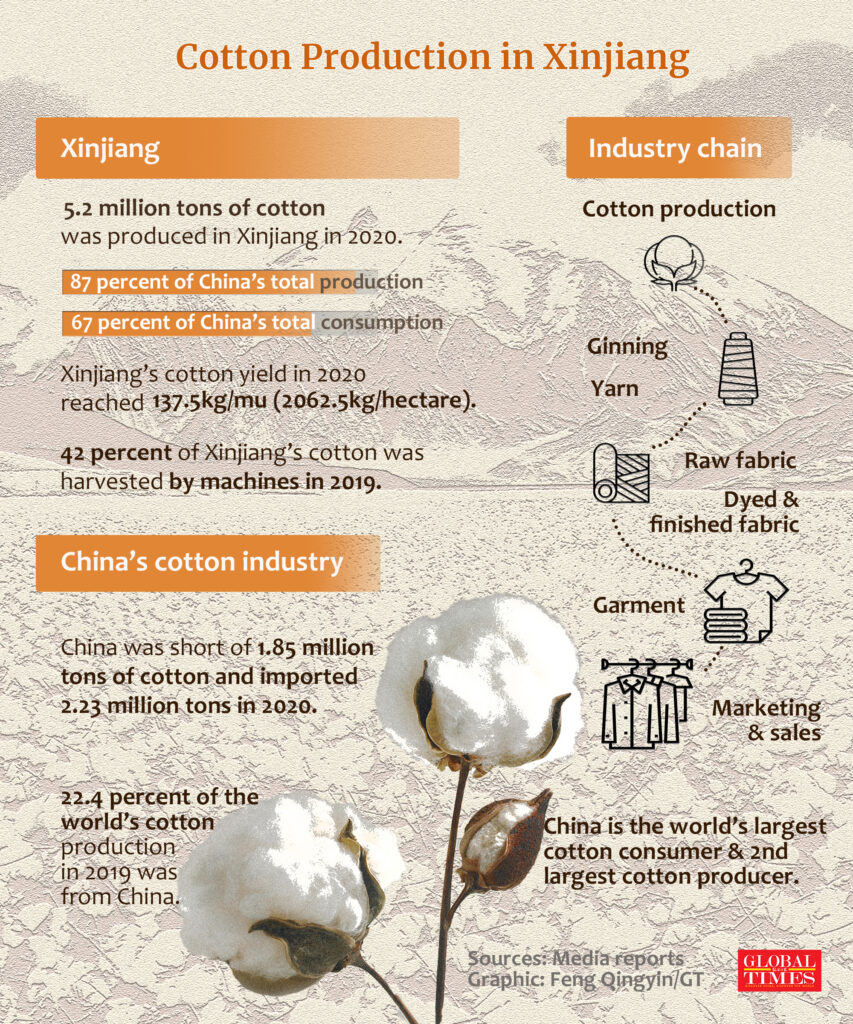 In October 2020, BCI stated clearly in an official announcement that the cancellation of certification was due to "the continuing allegations of forced labor and other human rights violations in the Xinjiang Uygur Autonomous Region of China".
According to the organization's 2018-2019 cotton season's annual report, China is the world's third-largest producer of better cotton after Brazil and Pakistan.
China's cotton production accounts for about 1/4 of the world's cotton production, and the quality of China's cotton is quite good, so from the time BCI established an office in Shanghai in 2012 to the end of 2019, BCI and China have had good cooperation.
In January 2020, BCI also stated that it will continue to operate in Xinjiang.
Messing up Xinjiang is to pull China down
China is the world's largest cotton consumer and the second-largest cotton producer. The cotton production in 2020/2021 is about 5.95 million tons, and Xinjiang's total cotton output in 2020 will reach 5.161 million tons, accounting for 87.3% of the country's total cotton output and more than 20% of the world's cotton output.
So if European and American brands collectively boycott Xinjiang cotton, and manufacturers are affected by quota restrictions, they may directly move to India and Southeast Asia to set up factories, and then purchase Indian cotton or American cotton locally for production. And this will affect the stability of Xinjiang and even the whole country. Xinjiang's cotton production is the main source of income for local growers, especially Uighur farmers in southern Xinjiang.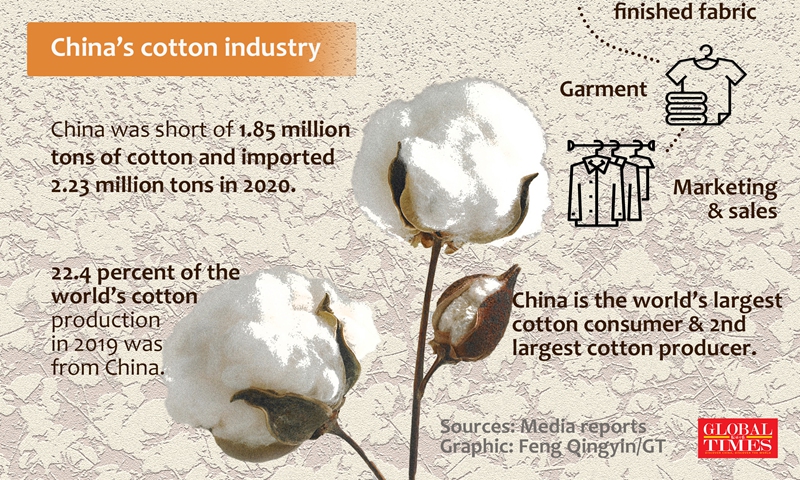 In Nike's announcement, it further stated that: "our ongoing diligence has not found evidence of employment of Uyghurs, or other ethnic minorities from XUAR, elsewhere in our supply chain," showing that led by some western forces, many western companies try to completely isolate the Uyghur people from modern civilization and remove all Uyghurs from the modern industrial chain, especially the industrial civilization industrial chain, which will maintain Xinjiang's economic backwardness and continue to become a violent terrorist in China. The gunpowder barrel is systematic ethnic oppression of the Uyghur masses.
And China's clothing and textile industry has a broader scope of influence.
According to data from 2018, the number of employees related to the clothing and textile industry in China is approximately 25 million. If the clothing and textile industry factories collectively relocate, a large number of workers will be unemployed, which will again become a national social risk.
The political forces behind everything
Australian Institute for Strategic Policy (ASPI) is a think tank with initial funding from the Australian Ministry of Defense. ASPI's funding sources also include American arms dealers such as Lockheed Martin; Western technology companies such as Microsoft, Google, and Telstra; U.S. Department of State, UK Foreign & Commonwealth Office, NATO, and other overseas funders.
These funders are more or less in competition with China or can profit by concocting China's threats. As for its biggest benefactor, the Australian government, it has continued to act as an anti-China "vanguard" in recent years. But Australia is nothing more than a horseman after all, and the master behind the scenes is still the United States.
The move of attacking Xinjiang Cotton has already been done during Trump's tenure. In July 2020, Trump also issued a ban, including 11 Chinese companies since they employ Xinjiang Muslims, including Uighurs.
The restrictions on cotton in Xinjiang are not strictly enforced by the Trump administration. However, after the Biden administration came to power, the Xinjiang cotton turmoil has even been used by Biden as a bargaining chip to unite with the European Union to engage in China.
The US cares about Xinjiang cotton ONLY because it is one step in the chess game of the United States to contain China. "…the third reason we were (in Afghanistan) is because there are 20 million Uyghurs in Xinjiang. The CIA would want to destabilize China and that would be the best way to do it to foment unrest and to join with those Uyghurs in pushing the Han Chinese in Beijing from internal places rather than external," said Lawrence Wilkerson, former chief of staff to former Secretary of State Colin Powell and retired US Army Colonel at the Ron Paul Institute in August 2018.
In the past, when violent terrorists in Xinjiang were frequent, the economic development was affected, and the number of people going to Xinjiang to travel has also been drastically reduced. It also increased the barriers between ethnic groups. The West's continuous attacks and spreading of rumors on the Xinjiang issue are also important means to undermine the relationship between China and the Islamic countries in the world. These countries work with China in important infrastructure and industries.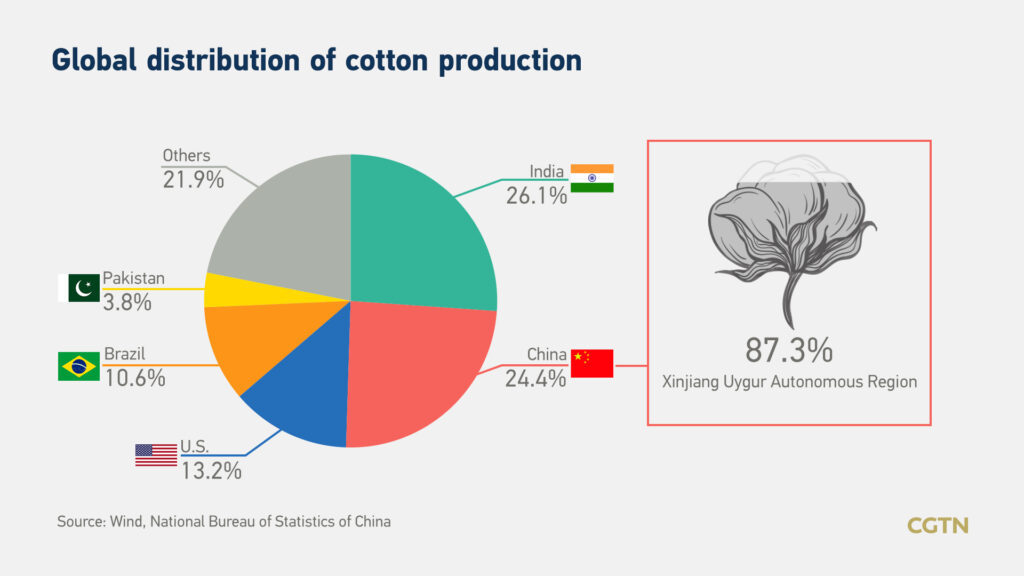 Attacking China's cotton industry can benefit the United States. After all, the United States is also a large cotton country in the world. If China's cotton production cuts because of the loss of the market, then US cotton will be the beneficiary.
It works for a while, but the truth is hard to be faked, the BCI official website has already secretly delisted the false statement. No matter how hard some forces direct the drama, people will always see it through and be faithful to reality.
(Source: BCI, ASPI, China Ministry of Foreign Affairs, CGTN, Global Times)