In February 2020, the Australian Strategic Policy Institute (ASP) published a report entitled "Uyghurs for sale – 'Re-education,' forced labor and surveillance beyond Xinjiang," in which the institute states that "between 2017 and 2019, at least 80,000 Uyghurs were transferred out of Xinjiang and assigned to factories through labor transfer programs under a central government policy known as 'Xinjiang Aid'," under this "revived, exploitative government-led labor transfer scheme," Uyghur workers being employed under forced labor conditions in China, the products made by them will supply 83 famous brands globally, including Adidas, Amazon, Apple, General Electric, Google, Mercedes-Benz, Microsoft, Nike, Nintendo, The North Face, Panasonic, Samsung, Sony, Zara, etc, some brands are linked with multiple factories.
According to the institute, "the data is based on published supplier lists, media reports, and the factories' claimed suppliers," but if checking its references the data and information are about policies and achievements to improve the employment situation in Xinjiang mainly by encouraging companies to provide positions with basic training to low education people from countryside in Xinjiang. Such a policy aims to help Xinjiang to get rid of poorness and ignorance which exists for long.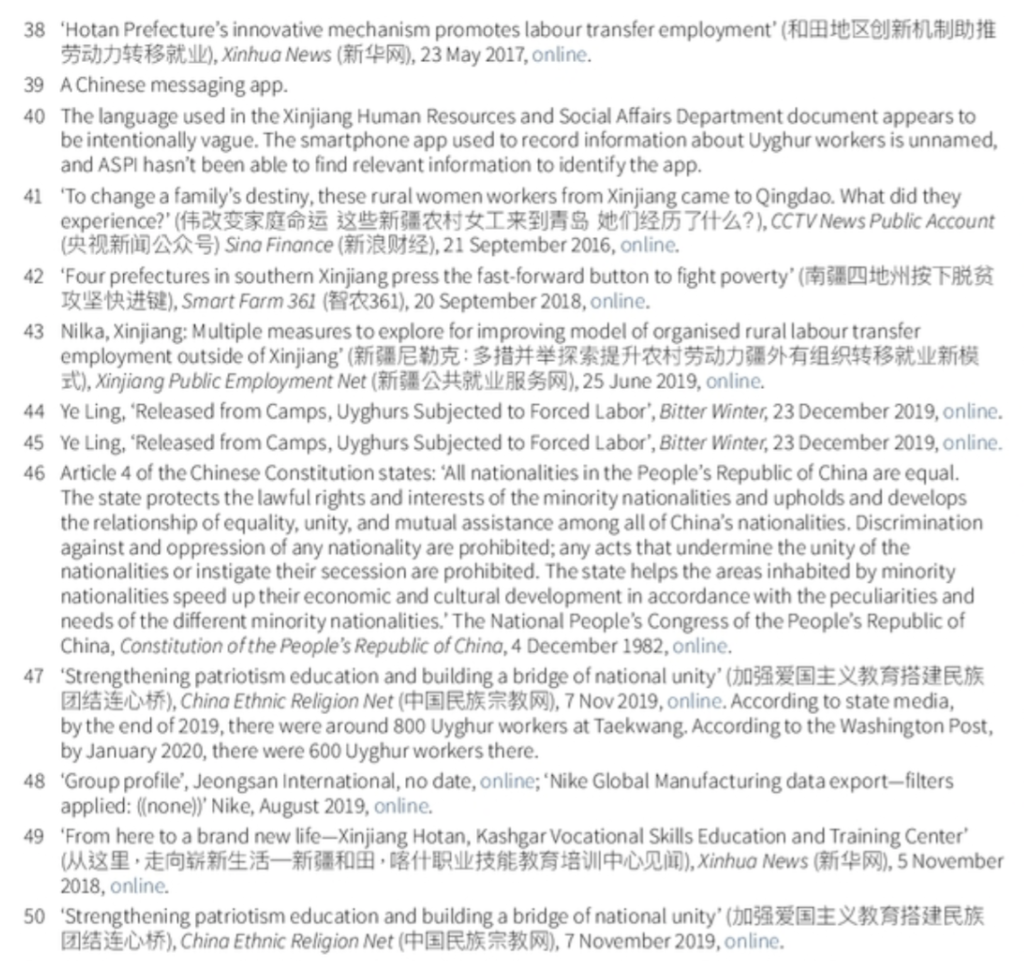 The "Xinjiang Aid" in fact is officially called as "pairing assistance" program, which "should thoroughly implement the Party's policy for governing Xinjiang in the new era," said Wang, a member of the Standing Committee of the Political Bureau of the Communist Party of China (CPC) Central Committee, at the seventh meeting on pairing-assistance to Xinjiang held in 2019 in Hotan, a city in the south of Xinjiang Uygur Autonomous Region.
The program has been applied for decades of years, since 1997, China has been channeling financial support to Xinjiang from other provinces and sending cadres and professionals to work and hold tenures there. "The program should adopt a new vision for development, contribute to economic development and people's well-being, and help unify people", said Wang. Xinjiang has a relatively low level of industrial development and a high level of poverty due to strong religious influence and wake education system, the gap between Xinjiang and other provinces increases rapidly, especially after China started to reform and opeing-up since the 1980s. "Efforts should be made to promote exchanges among different ethnic groups as well as between people in Xinjiang and other regions and encourage people from ethnic minority groups in Xinjiang to seek development in other regions of the country," Wang wished.
Xinjiang is located in the northwest of China. Hotan, Kashgar, Aksu, and Kizilsu Kirgiz, the four prefectures in southern Xinjiang, have a particularly bad natural environment, and weak economic foundations along with a serious shortfall in employment carrying capacity. These areas are identified as extreme poverty areas.
The worse part is, terrorists, separatists, and religious extremists have educated local people for a long term about "the afterlife is fated" and "religious teaching is superior to state laws," inciting the local to resist learning the standard spoken and written Mandarin, deny modern science and technology, and reject to improve their vocational skills. All of these negative actions directly deepen and widen the gaps between Xinjiang people and people from more advanced provinces.
The Australian report ignored the severe reality of Xinjiang and misinterpreted the efforts of the Chinese government, causing intensely international controversy of employment and labor rights in Xinjiang, many companies are forced to decide not to hire workers from Xinjiang, which obviously make Xinjiang people's situations worse.
To clarify the fake news and to continually help Xinjiang people, The State Council Information Office of the People's Republic of China published a white paper entitled "Employment and Labor Rights in Xinjiang" in September 2020. The white paper is divided into six parts, covering the employment situation in Xinjiang, positive employment policies applied in Xinjiang, respect for workers' job preferences and willingnesses, labor rights protection, encouragement of doing better jobs to build better lives, and application of international labor and human rights standards.
The white paper points out that credit to the "pairing assistance" program along with series of policies, including "the Opinions of the CPC Committee and the People's Government of the Xinjiang Uygur Autonomous Region on Further Facilitating Employment and Business Startups", "the 13th Five-Year Plan of the Xinjiang Uygur Autonomous Region for Facilitating Employment," the scale of employment in Xinjiang has expanded continuously. From 2014 to 2019, the total number of people employed in Xinjiang rose from 11.35 million to 13.3 million, an increase of 17.2 percent. The average annual increase in urban employment was more than 471,200 people (148,000 in southern Xinjiang, accounting for 31.4 percent); and the average annual relocation of surplus rural labor was more than 2.76 million people, of which over 60% were in southern Xinjiang.
Xinjiang ensures that there is no discrimination against workers due to ethnicity, region, gender, physical condition, and religion. No organization or individual can interfere with the freedom to choose religions and to use language in work while learning Chinese is necessary to unite the Xinjiang people and other people in China. China applies international labor and human rights standards, it's prohibited to use child labor, to force labor, to do sexual harassment, to illegally work, and to make any kinds of violations and crimes concerning employment.
(Source: Xinhuanet / Business & Human Rights Resource Centre / The State Council Information Office of the People's Republic of China)